Sue Bentley has been obsessed by books and reading since she was a little girl. A career in fiction seemed on the cards…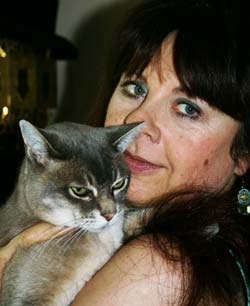 When you were little did you always want to be an author or something else?
I've always adored books and reading. One of my earliest memories is of sitting curled up reading animal stories. My sisters (I have four) would tease me about 'always having my head in a book'. Mum would say 'Will you put that book down and go and do something useful – like tidy your room!' No one, least of all me, had the slightest idea that I'd grow up to be a writer. At school I was often told off for daydreaming; now I realise that I was storing up ideas for later. Daydreaming rules, OK!
I was a tomboy sort of girl and didn't really play with dolls, like my sisters did. When not reading, I was climbing trees, going fishing in the park with the lads who lived opposite or playing tracking round the local streets. I wanted to be a nurse when I grew up, but in fact went straight from school into the local library. Books and reading somehow just became my life.
How or when did you start writing?
I always got good marks for writing stories at school and toyed with the idea of becoming a writer one day. But I didn't actually get serious about this until my own children started school. My first book was hand-written on pads of lined paper. It was a long historical novel, which has never been published – probably because it's rubbish! But I think you need to write this first book, to prove to yourself that you can do it. You need staying power and stamina to be a writer. Later, I bought a computer and taught myself to type, read lots of books about the craft of writing and just kept get on going. It took me quite a few years to get published. But when I held my first book in my hand I jumped all round the house shouting with joy.
At school I was often told off for daydreaming
Where do you get your ideas?
Ideas come from reading, talking to people, hearing scraps of conversation on the bus, watching TV, etc. The best ones often just pop into my head, usually when I'm washing-up or out walking or staring out of the window (yes, I still do this, but a teacher can't tell me off now!). Ideas are easy – it's working them up into stories that take so much time and effort.
How did you think of your character(s)?
My characters usually start life as a package. I decide that I'd like to write about a particular type of person. Maybe someone who's shy, or being bullied, or who really wants something but can't have it. I then work out what they look like, where they live, what they're interested in, what they like and dislike. Once I have a name the character becomes alive for me. Names are very important and I spend a lot of time choosing the right one. Magazines are very helpful here!
Are any of your books based on real life experience?
Some of my life experience goes into my books. I've always liked terrible jokes and the characters in my books tell these too – it's usually the dads. I suppose every character has something of me and my memories in them – especially the awkward or naughty ones! I don't use great slabs of my own experience – just a touch here and there. Crafting a book's a bit like making a cake. You sprinkle in a few nutty details, plop in a juicy plot, sweeten it with some fun, and then spice it up with tension.
Who is your favourite character in your books? OR Which of the characters in your book(s) would you like to be?
My favourite character in any book is the one I'm writing about the time. Although I'm very fond indeed of Flame, the Magic Kitten. He's brave, loyal, funny, a great friend – all traits I admire and aspire to in myself. I'm also very fond of my wonderful new character Storm, the Magic Puppy, who pops up in my £1 book. He's more mischievous and even funnier than Flame, but he's also brave and loyal. I love them both to bits.
Do you plan to write more stories in this series or introduce new characters?
There are more books to come in the Magic Kitten series and now there's to be the brand new Magic Puppy series. I do plan to keep writing about wonderful magical animals. Who knows where this could lead?
What was your favourite book as a child and why?
My favourite book as a child was The Little Grey Men by BB (penname of Denys Watkins-Pitchford, a Northamptonshire writer and illustrator). It's about the last gnomes left in England. Their names are Dodder, Sneezewort and Baldmoney and they live by the Folly Brook. In the sequel called Down The Bright Stream they all set off to look for their lost brother, Cloudberry. These books are so magical and evocative. I read them to my own children and I still absolutely love them. I think they helped to foster my sense of wonder and love for the natural world.
What would you do if you weren't an author?
If I wasn't an author, I might be an actress. I love going to the cinema and I was often accused of being too dramatic as a child. (My characters are often like this too!) I might have worked with wildlife or been a gardener. I might have made fabulous creations in chocolate and sold them – if I hadn't eaten them myself. I might have been an explorer. Hang on; I am all these things – inside my books!
Where do you live?
I was born in Northampton and I still live here.
If it's a unique building or location, please explain why you chose to live there.
My house is quite ordinary and in a built-up area, but it's surrounded by my very own miniature wood and wildlife garden. About 25 years ago, after watching a programme on TV, my partner and I planted a hedge of native trees and bushes. This is now enormous and frames the garden, providing me with something beautiful to look out at as I write. Although our wildlife haven is only small we get up to 12 species of birds nesting each year. We have frogs and newts in the pond and hedgehogs hibernate by the back door. One year, we had some gorgeous waxwings from Scandinavia pop by for a snack of red berries.
What is your favourite sweet?
My favourite sweet is chocolate. Preferably organic dark chocolate with nuts. Yummy. I believe this is also good for you in small quantities. A fact I have to try out every day, just to see if it's true.
Do you believe in magic?
I believe in magic. In the sense that life is the most wonderful magical adventure. Every one of us is a magical, unique person and if you expect magic to happen, chances are that it will.