After reading through all of the wonderful entries to our Best Books competition (featured in our 2011 Read me supplement), the winner has finally been decided!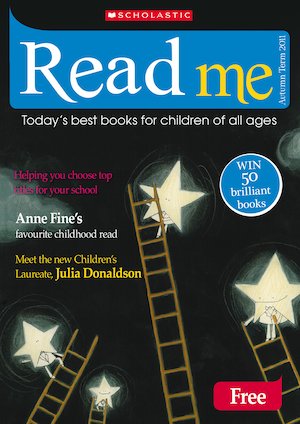 Entrants were challenged to write a 100-word review of their favourite book. Seven-year-old Jac Simmonds from Treorchy in South Wales impressed the judges with his review of The Polar Express by Chris Van Allsburg, and wins 50 children's books! The judges also picked three runners up: May McWhirter – age 11 (Perth), Mackenzie Osborne – age 5 (Eccles Hargham & Wilby Church of England Primary School, Norwich) and Hazel Longley – age 7 (Kingsbridge Community Primary School, Devon)
Overall winner
Jac Simmonds' review of The Polar Express by Chris Van Allsburg
I love this book – it makes me want to put up our tree and hang my stocking! The story is about a little boy who goes on a train ride to The North Pole and back in just one night! He gets Santa's first gift of Christmas but then loses it!
I love the illustrations because they are realistic, like actual photographs. My favourite is the train arriving all lit up in the darkness and snow.
I'd recommend this story to children aged 6 and over for a cosy read on a winter's night.
Runners up
Mackenzie Osborne's review of Tyrannosaurus by Monty Fitzgibbon
There is a picture of a T-rex on the front cover. It is a non-fiction book.
I chose this book because I like all the pictures and they are of dinosaurs. I have a favourite picture. It is of a dinosaur with stripes.
There are sea dinosaurs and dinosaurs with claws.
Hazel Longley's review of Running Wild by Michael Morpurgo
The book is Running Wild by Michael Morpurgo. He got the idea from Rudyard Kipling's Jungle Book and The Elephant's Child and by the Boxing Day tsunami.
The story was about a boy, Will, who was having a ride on an elephant when it charged into the jungle because it felt a tsunami coming. I didn't think that Will would survive, but he did with the help of the elephant, who became his best friend as well as some orang-utans.
The book was fantastic because one minute we were enjoying the jungle and the next we were running from poachers!!!
May McWhirter's review of Then by Morris Gleitzman
'Then' is a truly tragic but moving story of a young Jewish boy, Felix who has the responsibility of caring for a younger German girl, Zelda.
They find themselves running away from a Nazi train when, farmer's wife, Genia finds them and takes them under her wing. Unknowingly this is a choice that will cost her dearly. Zelda hates everything associated with her parents and Nazi's but through her friendship with Felix her attitude changes.
Overall I loved the book, the hope and courage of Felix and the belief the writer has filled this breathtaking story with.