This spelling game allows children to practise adding the suffixes -s and -es to verbs and nouns.
Previous learning
To get the most out of the game the children will need to have begun learning about the generalisations related to adding the suffixes -s and -es to words.
Preparation
Each player or team needs ten counters (each player needs a different colour) and a piece of paper or small whiteboard and pen.
Read any of the words on the beans around the beanstalks that the children may find difficult to decode.
Read the prompt sheet together and model adding a suffix to run, dish and berry.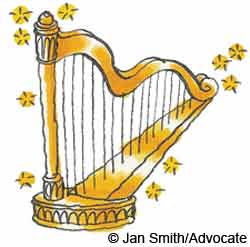 The game can be played by up to four children, either individually (two children with different coloured counters can use each beanstalk) or in teams of two. Play should be supported by an adult.
Playing the game
Players have to take turns trying to climb the giant's beanstalks to be the first to reach the golden hen or harp.
The first player begins by looking at the bottom leaf and reading the suffix. Then he or she searches around the board trying to find a word which they think needs that suffix.
When they have chosen a word, they write it on their paper or whiteboard and add the suffix.
If they do this correctly, they can place a counter on that leaf and move up to the next leaf on their next turn.
If the player chooses the wrong word, help him or her to find a suitable word. Alternatively, model adding the correct suffix for the word chosen. The player must attempt the same leaf again on the next turn.
Play continues until someone reaches their gold.
Follow-up
When play is finished, encourage the children to explain how they knew which suffix to add.
Using the activity sheet
A simple prompt sheet is provided below to help the children to choose the correct suffix both when playing the game and when completing other writing tasks.
Key learning outcomes:
To take turns;
To spell with increasing accuracy and confidence, drawing on knowledge of word structure and spelling patterns;
To read and spell less common alternative graphemes, including trigraphs.