About us

Class Ideas has been providing schools and teachers with quality motivation and reward products for over 25 years. Working closely with teachers, we continually update our products to provide exactly what is needed in the classroom and throughout the school for the current curriculum.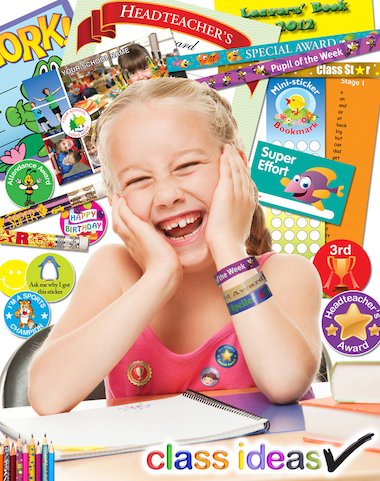 Our products
We pride ourselves on the quality and variety of our motivational and reward products. By rewarding children for good work or behavior, they are encouraged to continue with their good efforts and the other pupils will strive to get rewarded too.
Our most popular motivation and reward products are:
Stickers, pin badges, charts, rulers, awards, certificates, postcards, wristbands, enamel badges, stampers, medals, printed reward pencils, Olympic rewards, bookmarks, as well as low cost gifts for starters, leavers, Easter, Christmas and birthdays.
In addition to the essential sports day, literacy, numeracy and science resources, Class Ideas provide a wide range of craft materials, papers, display boards, motivational and educational posters, borders, backing display papers, banners and headers, mounts and frames to make the learning environment fun and engaging.
Class Ideas are also one of the UK's leading suppliers of mini-whiteboards. Our sturdy mini-whiteboards are 3mm thick and available in A5 or A4 sizes, manufactured to the highest quality to ensure they last for years. We also supply large reusable flexi-poster wipe-boards that can adhere to walls. All of our double-sided printed dry wipe mini-whiteboards and flexi-posters come with a FREE dry-wipe pen and are available printed on one side with various designs to support literacy, numeracy or music and have a dry-wipe surface on the reverse.
Promote your school
Need to get noticed? Class Ideas understands how important it is to promote and market your school throughout the year and we provide products perfect for the task; Weather-proof PVC banners to advertise open days or fayres, pin badges, welcome stickers, postcards, leaflets and brochures.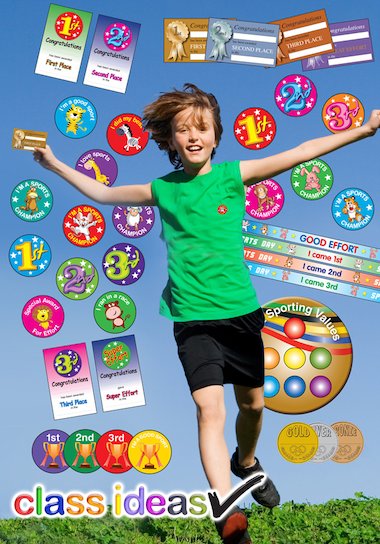 Have fun fundraising
Need to raise some funds? Class Ideas provide all the help you need to run a fantastic raffle. From just £21, raffle tickets are an excellent and very effective way to raise funds, whether it's for Christmas, Easter, a summer fayre, Valentine's ball, sporting events, royal occasions or any other event. For information and ordering visit our specialist raffle ticket website.
You can also generate funds for your school or PTA this Christmas with unique Christmas cards designed by your pupils with their own drawing on the front and details on the back. 12 personalised Christmas cards cost only £5, and £1 is donated to the school for every pack sold. Visit our website for more details and a downloadable entry form.
Bespoke designs and products
We are also able to provide bespoke personalised material such as stationery, homework books, leaflets, folders, prospectuses and other marketing and promotional materials for schools as well as the day-to-day classroom requirements at extremely competitive prices.
First class service
If there is something you want, but can't find – give us a call and we will be happy to help!
As a special gift from Class Ideas, quote SCED1 and we will give you 140 Stickers for FREE with your next order. (Valid until 1st March 2013 while stocks last).
Visit the Class Ideas website to see our complete range of products, or email sales@classideas.co.uk or phone 0800 028 0785 for orders or more information.