Discover how easy it is to run a successful language day in your school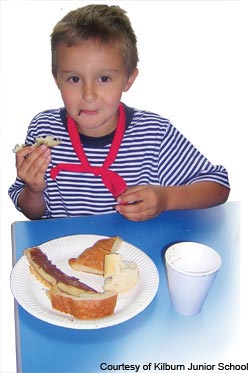 French food was an area which required extensive study!
For Pat Wongsam, headteacher of Kilburn Junior School, teaching French is all about fun, food and fashion! Here she tells Junior Education PLUS how her school ran a language day for Years 3-6…
'In a school of Francophiles, teaching French was the obvious choice when deciding how to fulfil our MFL entitlement. As we discovered, to fully embrace language teaching, you need staff who are not only comfortable with speaking a foreign language, but who are also passionate about it. For those who were less confident, it was important to find resources that fully supported teaching and learning, for pronunciation, lesson plans and activities. This helped to take pressure away from our teachers as far as possible.
Equally as important as having teachers on board, was showing the children just how enjoyable a new language can be. Even with only a basic level of French, the language can be woven into many subjects and scenarios. On our language day, we decided to take it all the way and use French throughout the day's teaching. A party pack of decorations full of flags, stickers, posters, maps, pictures of Paris and cardboard cut-outs of café scenes later – and the school was transformed!
Literacy
In the morning, we used the Livre électronique from our Tout le monde (Heinemann, www.tout-le-monde.co.uk) French resource for literacy hour. Paired with partners of differing abilities, the children practised reading in French. We also used songs from the resource to add extra fun.
To fully embrace language teaching, you need staff who are not only comfortable with speaking a foreign language, but who are also passionate about it
Maths
All of our learners, irrespective of age, managed to do maths in French. Younger children counted and did simple addition, while the older ones solved money problems. This just goes to show that a new language can be used and enjoyed in any subject.
History
Learning a language is not just about grammar and vocabulary; understanding the culture of a nation is still important. The afternoon's lessons included research into the storming of the Bastille, the French aristocracy, Versailles and Louis XIV – key periods of French history.
Sport
Unfortunately in the UK, we cannot guarantee good weather like they can in the South of France but, in true British fashion, we made sure the rain did not wash away our French games! French cricket and boules were relocated inside of the school building and showed how the French like to spend their time.
French fashion
As we discovered, there is no better way of getting into a French frame of mind than by dressing up appropriately. It was important to ensure costumes could be easily assembled so that every child could join in, without hassle or cost, and the scope of what could be worn for a French language day was seemingly endless. We encouraged everyone to dress up in bold, bright colours to enable children to practise describing their clothes and colours beyond the limits of the normal school uniform. The staff, in particular, embraced French costume – we were honoured to have characters from periods throughout history, including Van Gogh! As we found out, it's easy to dig out a stripy T-shirt and a beret and instantly become a French artist!
A French feast
A hard day's work must be rewarded and food tasting gave us the perfect opportunity to sample some French delights. Children and teachers didn't waste any time in tucking into croissants, crêpes (kindly cooked by a French parent), chocolat chaud, pain au raisin, pain au chocolat and brie.
C'est magnifique!
It is important to be creative with language learning and realise the wide manner of ways in which a new language can be integrated. Our language day was just the start for us. Since then, we have had a French carol service and one of our Year 6 children was sponsored to speak French for a whole day at school for Children in Need. Just get your 'thinking berets' on to realise the fun that French can bring!'