French enthusiast and last year's Guest Editor, Rosie Warden, reveals how to add a little va-va-voom to your French teaching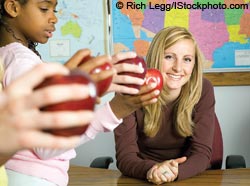 Perhaps the biggest challenge that teaching primary languages presents is how to fit the recommended 60 minutes a week into an already jam-packed curriculum. Clearly, if children are to make good progress with a language, they must hear it regularly, and have opportunities to repeat it. The KS2 Framework for Languages deliberately avoids prescribing a particular way of planning lessons, though the recently published 'Section Three' does contain guidance and examples. A four-part lesson structure can work well:
Present new vocabulary.
Explain how it can be used.
Repeat new language.
Apply new language learned.
It is much more effective to learn a small amount of language really well and be able to use it flexibly in different situations, than to attempt to memorise long lists of nouns. By working to the maxim 'little and often', it can be useful to supplement a longer, weekly taught session (of say 30-40 minutes) with short, five-minute 'bursts' during the week, achieved by embedding the language into classroom routines. See 'Little and often techniques' below.
Little and often techniques
Do the register in French – get each child to respond to the question: Ça va?
Record the date in French on the board and change it daily with the children. Equally, a daily weather report can work well, too.
Children can be dismissed to play/lunch by answering a simple question in French. Alternatively, define a particular criterion for the children to respond to, for example: Ton anniversaire est en Septembre; Tu portes du bleu; Tu as huit ans or Ton prénom commence avec 'A'.
Praise work across the curriculum in the foreign language: Super Mark! for example. For younger children, many of the main sticker companies sell foreign language stickers.
Encourage children to use s'il vous plait and merci.
Use basic classroom commands such as Asseyez-vous and _Rangez vos affaires_.
Count up or down in French while tidying up.
In PE warm-ups, state a number in French and ask the children to get into groups of that size, or use French in your warm-up by having actions that go with a particular number.
Sing 'Happy Birthday' ('Joyeux Anniversaire') in French.
Have a word of the day – for example a classroom object which could be labelled.
Using flashcards is a great way to introduce new words. Get the children to demonstrate understanding through a physical response so that they get used to really hearing the words (see 'Tips for using flashcards', below).
Tips for using flashcards
Pin flashcards around the room and ask the children to point to the correct one when they hear the word.
Tell the children to stand up if you say the correct word for a particular flashcard. (This can later be adapted with children encouraged to say: Oui, c'est le… or Non, ce n'est pas le…).
Play a game of Swat! Stick flashcards on the board and ask two children to stand in front of them. You say a word, and the first child to 'swat' the correct card wins a point. This is great as a team game. (Team games and paired work are good tools for ensuring that all children are participating.)
Pairs/individuals have copies of the flashcards, and hold up the right card according to what you have said.
Place the cards on the board and number them. Say a word, and get the children to hold up the number of fingers for the appropriate word. Once children are confident, they can repeat the words, using different tones of voice, such as a giant's or 'posh' voice.
It is much more effective to learn a small amount of language really well… than to attempt to memorise long lists of nouns
Games and songs
Games and songs are fantastic for really embedding the language.
Chef d'orchestre – decide on a sequence of words. One child goes out of the classroom, and while they are outside, the rest of the children decide on a leader. The child outside the classroom re-enters the room and the children start chanting the first word in the sequence. On a given signal by the leader, they all change to the next word. The aim is to guess who the leader is.
Pairs games – matching the word to the picture.
Bingo – theme bingo cards using numbers, colours, fruit, and so on.
Kim's game – memory game recalling a group of objects.
Noughts and crosses – the child has to say a given word correctly or answer a question before being allowed to have a turn.
Drama and
MFL
Use drama to practise the language in a meaningful context. Try a role play with a very simple repetitive structure, eliciting from children alternative words they could say at particular points in the dialogue. Humour can be a great way of ensuring lots of repetition, for example, a tourist asking someone who's half asleep for directions. Once children have had a chance to practise, these role plays can be filmed and played back – a useful assessment tool.
Literacy and
MFL
Children could also try retelling well-known stories. Picture books such as The Very Hungry Caterpillar by Eric Carle (Puffin, £5.99 PB) work well, because of the simple repetitive structure. Challenging children to create their own digital books is also effective, as does using simple recording software. Children can then add sound clips to their 'books'. This sort of activity is also a great way of meeting some of the drama, speaking and listening and ICT objectives within the renewed Framework for Literacy.