Scholastic Book Fairs has launched Scholastic Business School to encourage budding entrepreneurs to develop real-world skills including financial awareness, creative thinking and teamwork by running their school's own bookshop.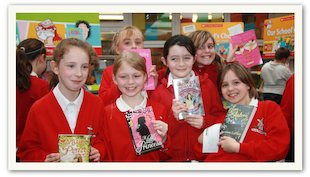 Turn a Book Fair into a financial awareness project
For more than 21 years Scholastic Book Fairs has been helping thousands of UK schools to create an inspiring focus on reading for pleasure by opening their very own school bookshops, with books for all ages, interests and abilities. Books available to buy from the Fair are selected by an experienced team and sourced from 50 different publishers.
Scholastic has developed creative ideas, free resources and curriculum planning grids to expand Book Fairs into an enterprise project for upper primary school pupils. These materials are based on proven enterprise activities run by real teachers, and have been developed in partnership with Scholastic's Educational Publishing division to ensure they deliver curriculum-linked outcomes in financial understanding, mathematics, ICT and PSHE and Citizenship.
Business School competition
As part of the launch, Scholastic is also announcing a competition to find the best Scholastic Business School of the Year. Designed to consolidate learning and demonstrate outcomes, the Award will be presented annually to the school that displays the highest levels of enthusiasm, effectiveness and innovation in running their Business School. Your entry needs to include a report on the planning, promotion and running of the Business School alongside the Fair, with photos and quotes. Entries will be judged on the basis of effort, creativity and originality. The winning school will be awarded the Business School Trophy, an iPad and £500 of children's books.
Learn more at the Scholastic Business School web page. For further information, contact John Gerrard on 020 7756 7678 or jgerrard@scholastic.co.uk.