Student/NQT guide to… Class assemblies
23 February 2008
Add to My Folder
This item has 3 stars
of a maximum 5
Rated 3/5 from 2 ratings (Write a review)
Your star performer is ill and little Billy doesn't want to play the goat – assemblies are anything but easy. Avoid public humiliation with our handy guide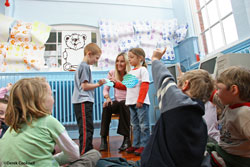 Assemblies are great fun to watch and children seem to enjoy being in them, but for a first-time teacher, putting on a class assembly can be an ordeal akin to walking on hot coals. I've been there, done it. So, here are the fruits of my fire-walking labours.
The harsh reality
Assemblies can be an ordeal for several reasons:
Firstly, you usually get about three days notice as no one has even told you about the special Assembly Calendar on the wall of the staffroom behind the coats.
Secondly, you always plan something that sounds excellent at four o'clock in the morning, but in reality – once you're faced with 30 over-eager children at registration – you realise it's impossible to execute without a supporting team of supervisors and plenty of aspirin.
Thirdly, if you're unlucky like me, you'll find that your class' assembly will nearly always follow on the heels of Miss X's

BAFTA

award-winning extravaganza the week before.
This is how it has always been and always will be. Take a deep breath. It's going to be OK!
Times have changed
Assemblies have changed over the years. Once upon a time, in the rose-tinted 'good old days', children would stand up proudly, show their potato arks, sing The Wise Man Built His House Upon the Rocks and finish by holding up a simple crayon sketch of Noah and his animals (Jack, should that giraffe have three heads?).
Nowadays, you're more likely to experience what I term 'The Sod's Law assembly': in short, children do a simple elephant tramp on to the stage, one child trips and falls (cue tears), one child forgets their uniform (cue angry parents), a dozen forget their lines, nine are absent and your interactive whiteboard that you set up in the hall at seven o'clock that morning fails to work. Dive for cover!
Best in show
So, why is there such pressure to get it right? Well, you want your class to look 'the best' don't you? You're on show too and everyone, including parents and staff, will be looking at you to get ideas, praise or talk about you in the staffroom or in the local supermarket. It's your reputation that is at stake.
The art of good assembly
You and your class can 'be the best' if you follow these simple steps to success:
1 Make sure you have enough warning
If you have found out that your assembly is just a week away, go and speak to someone about it and explain. If you have a mentor, they are the person to go to. Anyone would understand. It is unreasonable to expect a new teacher to do such a thing with so little notice. It is impossible to cobble together anything decent with hours to go. This isn't Art Attack – it isn't that easy!
2 Link to class themes
If you haven't been given a theme, try to link it to something you are doing in class. Some schools plan out their assemblies beforehand and insert kind little titles such as 'Bread from Asia', Tudor Recorder Playing' and 'Gymnastic Display'. You'll find that toilet cubicles are a good place to go and scream.
3 Avoid being clever
Never do any kind of PE. What may work on a hall floor is fatal on a stage. Also, avoid recorders – these never sound nice. There is always one who failed to master 'London's Burning' and this always makes other staff grit their teeth and shake uncontrollably.
4 Know your children
Pick your best public speakers – those who can confidently learn tricky lines. Also have the words printed out on card. This looks like you have spent time making it visual – 50 house points to you! Any child who is likely to forget lines, punch someone or laugh can either (a) be absent, (b) hold simple props, (c) sit cross-legged and smile, or (d) introduce the event – 'Welcome to our class assembly' and 'Thank you fo watching our class assembly'.
5 Make it cross-curricular
Use plenty of visuals. Make the most out of any ICT work you've been doing, or music you've been making/listening to. Where possible, include a little humour. This is known as the Disney Syndrome – it might be for the kids, but the adults are watching too, so get a few in-jokes in.
6 Practice makes perfect
Scrap all other lessons to ensure you are perfect, or as near perfect as can be expected. This usually involves your class on the stage and you standing near the back holding your ears and shouting the usual 'Grannies won't be able to hear that tiny little voice Justin' and 'No, that's not louder is it? That's the same volume only slower'. You'll be amazed at your level of sarcasm when under pressure.
7 Grimace and bear it
If something goes wrong, smile and try not to look cross.
8 Ask the audience
Ask the audience if they have any questions. If you have been clever you will have prepped your brightest child to answer any number of enquiries.
9 Hand out the compliments
Congratulate your class, ignore any snide looks from the staff and forget that last week's assembly by Miss X was much better. Say to yourself, well done me!
Keep it simple
At the end of the day, the most important advice I can give is – keep it simple. I think some teachers often forget that assemblies are about showcasing the children's work and helping them to grow as confident performers, not showing off. Keeping it simple will (hopefully) allow every child to participate and contribute. And remember, there is always the toilet cubicle if things go wrong…