Keeping a child's confidence is a sensitive issue. Help is at hand to steer you along the fine line of trust, protection and policy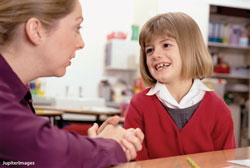 Confidentiality plays a key role in the lives of school staff, and it's important to understand your legal and professional duties in this area. Teachers are often privy to confidential information about their children, and clearly it's vital to keep children's personal details safe and secure. Remember that you should not share private information about a child with the rest of the class, even in the form of a casual comment. For instance, looked-after children might not wish their peers to know about their situation outside of school. Similarly, be wary of those informal chats in the staffroom where you might say more than is wise about a child in your class, without really thinking about the need for privacy.
There will be some aspects of your children' lives to which you are not given access. This is where the requirement for confidentiality lies with another member of the school team, such as the SENCO or school counsellor. Often, the SENCO will be able to give you general advice about a child (like behaviour or background), but will not be able to go into the specifics for reasons of confidentiality.
Sometimes it is the member of staff who requires confidentiality, for example if you need to 'blow the whistle' on an instance of malpractice or health and safety breaches at your school. Fortunately, there is legislation in place that guarantees confidentiality to whistleblowers at work.
Your school should have a confidentiality policy that is both clearly written and clearly understood by staff, children and parents. It's important to ensure that staff read the policy, and that details are passed onto parents and visitors.
Confidentiality and children
As well as enjoying your teaching role, the pastoral aspects of the job can be very fulfilling. Helping to care for the 'whole child', and ensuring that every child really does matter, is an essential part of the professional role. When a child first approaches you to share a confidence, this can make you feel both important and trusted. However, it's important to remember that you are not the child's friend or relative; as a teacher you have an overriding professional duty of care.
Whenever a child asks to tell you something in confidence, you should never promise that you 'won't tell anyone'. Where child protection issues are involved, you would have an immediate obligation to break this promise. Other less serious issues might still need to be shared with some of your colleagues in school, or with parents. For these reasons, it is best not to guarantee confidentiality. Instead, you might tell the child that you can discuss the issue 'in private', but that you may need to tell others so that the school can offer appropriate support.
Often, children will simply want to share details with a trusted adult of something that has happened to them. It might be that they want to chat to you about friendship difficulties, and in these situations you can give them advice without having to worry about taking it further. If a child were to tell you that bullying is taking place, though, you may need to involve parents, peer counsellors and special needs staff to help deal with the issue. All schools have a named Child Protection Officer (CPO). If a child approaches you and gives a disclosure of abuse, you should pass on this information immediately. Similarly, if you have concerns about a child, perhaps who is exhibiting symptoms of parental neglect, you should talk to your CPO about the situation.
Confidentiality and adults
Teachers have a professional duty to report instances of malpractice, such as 'cheating' in exams, manipulation of finances, criminal activities, health and safety breaches, and so on. The UK Public Interest Disclosure Act is designed to support those who need to 'blow the whistle' on issues at work. Here, the need for confidentiality is obvious. If teachers are to report senior members of staff for malpractice, they must feel that their identities are protected.
The organisation Public Concern at Work offers advice and support on such matters, with a helpline where you can speak to an advisor free of charge. Depending on the type of concern, you might talk first to a senior manager or the board of governors at your school, or perhaps to the LEA or Health and Safety Executive.
Where the issue involves bullying, or other matters of staff welfare, the first port of call should be your teaching union, as they will be able to give you support and unbiased advice. Although it can be helpful to speak to senior managers. Where a teacher feels that the bullying is coming from above this can make the situation worse rather than better. You might also find it helpful to contact your Local Education Authority or the General Teaching Council.
Sue Cowley's books include You Can… Create a Thinking Classroom (Scholastic) and Guerilla Guide to Teaching (Continuum). For more information visit Sue Cowley's website