This comprehensive on-screen resource supports delivery of the Literacy Framework Y3 Narrative Unit, Authors & Letters. Within the resource the poet/author Moira Andrew poses questions and suggests activities you can work into your lessons. Start by reading the Author Profile, so the children become familiar with the author. When you have shared some of Moira's work, why not chat with her in our Literacy Time PLUS online Forum?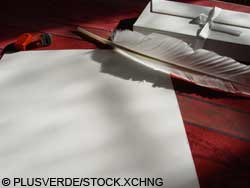 How to begin
From the main menu within the on-screen resource, select the Author Profile. As you read this with the class, ask questions, such as:
What was it Moira liked about books?
Why do you think she enjoyed books about girl characters?
What do you think Moira means when she talks about 'using the language of today' in her poetry?
Why do you think Moira would love every child to share her passion for books?
Phase 1, Part I: Reading and responding to poems
Read the section 'How do you get your ideas?' What has Moira added to the incident she observed to write the poem 'Unholy Joy'? What type of language has she used to create the images in the poem?
Read the kitchen sounds poem to the children with their eyes closed. How has Moira created a sound poem? Go on a sensory walk, to test how Moira gets her ideas. Look for incidents that could become poems; listen for sounds you could use in your writing. Ask the children to make notes in a notebook.
Previous learning
Children should be familiar with well-known children's authors, be able to name a selection of texts they have written and express their responses to the authors and their work. Introduce Moira Andrew within this context, as an author who has written a variety of texts across different genres.
Read the section on 'My favourite poem'. Have a brief look at 'My Gran'. Ask the children to discuss in pairs someone who is important to them. They could make some notes about that person, as Moira has done.
Read the last section about 'Stories to be proud of'. Discuss how Moira has used real people and developed them into characters. Ask the children to think about real people they could turn into characters or pre-existing characters they could make their own, as Moira has done in her folktales. Again, make notes about the people or characters in a notebook.
Share the poem, 'Just Like Me' and use Moira's notes and questions to elicit response. Use talk partners to develop ideas for the poem – things that are special and something that they fear. Structure your own poems using 'Who else knows…' to start each verse.
Before reading 'Nobody Knows', discuss bullying with the class, perhaps in a circle time activity, sharing the feelings bullying raises. Use Moira's notes as you navigate the poem. Use role play and freeze-framing to explore a scenario that might become the basis for your own poems, either on bullying or, as Moira suggests, focusing on friendship.
Re-read 'My Gran'. Discuss the use of hyphens and create new examples. Use the notes the children made earlier on a special person as a starting point for writing their own poem in the same style.
Phase 1, Part II: Reading and responding to stories
Read Moira's re-telling of Beauty and the Beast. Discuss the differences Moira has brought to the story. Are there elements similar to other traditional stories – eg, Cinderella? Use Moira's notes to analyse and respond to the text and write your own versions of a traditional tale.
Read The Magic Flute and note any words that may need to be explained. Discuss the origins of the story and how the vocabulary used reflects this.
If desired, revise how to write direct speech using this text.
Moira mentions two Welsh stories in her notes. Find these, or other folktales from around the world, which the children could re-tell.
Key learning outcomes:
To identify features that writers use to provoke reactions and create images and atmosphere;
To read extensively favourite authors;
To explore why and how writers write, including online contact with authors;
To write non-narrative texts using structures of different text types.
Useful websites
Moira's own website: www.moiraandrew.com
For an overview of the Literacy Framework Unit, Authors and Letters, go to: www.lancsngfl.ac.uk and select Renewed Framework, then Unit Summaries.
Further reading
Download a Literacy Time PLUS Moira Andrew Author Profile here
Completing Phase 1
Finish this part of the unit by writing reviews of Moira's poems and stories. Model writing a review first and provide a writing frame to those who need more support. Share the reviews and make recommendations of Moira's texts to suit different audiences.
Phase 2: Analysing letters
Navigate the 'Letters and Emails' section of the resource.
Use Moira's suggestions for letter-writing to analyse the example letter to Jacqueline Wilson. Does the letter do these things? (See Further reading)
Look at the different types of sentences in the letter – 1st person statements and opinions, questions, commentary.
Discuss the use of paragraphs to organise ideas within the letter. Go on to analyse the emails. How are they different to writing a letter?
Phase 3: Writing letters to authors
Re-visit the author profile. Discuss what we know about Moira and her work and generate questions about what we would like to know.
Look back at each of the texts and make a class comments/questions collection for each one. What did you like about it? Why? What were the best bits? Do you have any questions about the way it was written?
Ask children to plan several paragraphs for a letter to Moira Andrew. Download the writing frame provided and use this to draft a letter. Use learning partners to read and edit the letters before creating final versions to send.
Use the online forum on the Literacy Time

PLUS

website here to write and send messages and letters to Moira from the children.