This poster for the Horrible Histories stage show features persuasive language and advertising techniques such as eye-catching design and recognisable images. It links with Y4, Unit 4, Persuasive texts in the Literacy Framework Planning Unit for Non-fiction. An additional text – a leaflet for the Horrible Histories bus tour – is available to download here.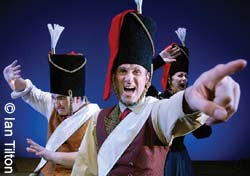 Birmingham Stage Company's productions of Terrible Tudors and Vile Victorians
Shared learning and teaching
Before reading
Suggest ways in which people try to persuade – eg, discussion, argument, advertising – or advertise – eg, TV, magazine, posters. What are the advertisers trying to do? Discuss successful advertising posters.
Shared reading
Introduce the poster and share immediate reactions. Was it instantly recognisable? What parts were they drawn to? Are they keen to read the smaller print (are they 'hooked')?
Ask individuals to choose sections to read. Encourage dramatic reading to emphasise the persuasive nature.
Previous learning
Children should have some experience of: exploring how particular words are used; explaining their reactions to texts; making adventurous word choices; using different presentational features to suit purpose on paper/screen; using word processing packages.
Responding to the text
Why has the Horrible Histories series of books been so successful? Spin-off products include magazines, exhibitions, games, a website (www.horrible-histories.co.uk), TV series and stage shows.
Who is the poster designed to attract?
Discuss the use of humour. What might 'Bogglevision' be?
Point out the use of alliterative phrases. List further examples (The Rotten Romans, Vicious Vikings, etc).
In the space provided on the poster, compose some persuasive text to attract people to come to see the show at a theatre near you. If working on an

IWB

, you can overlay your copy over the poster.
Drama
Prepare a radio advert to persuade people to see the shows.
Key learning outcomes:
To explore how different texts are organised and how they appeal/provoke reactions;
To use descriptive vocabulary, humour and layout to write/present own persuasive texts;
To use word processing packages to present work.
Group and independent activities
Find examples of alliteration.
Explore the Birmingham Stage Company's website (www.birminghamstage.net) and watch extracts from the shows. Compare how the poster and the website are presented and try to persuade.
Ask pairs to challenge each other to spell words from the poster. Devise fun ways of remembering the spelling (eg, Horrible and terrible really are horrible and terrible because they have double r's in them! You have to be live to survive. Histories are OK, but what happened to Herstories?)
Using the activity sheet
Explain that a press release aims to persuade the media to feature information about the show. Identify persuasive devices (eg, adjectival phrases, such as smash hit, best selling, hugely successful, rip roaring best). Explore how the text expands on the poster but doesn't need to be so attractive or eye-catching.
Plenary
Display the children's posters. Comment on impact – are they eye-catching with persuasive language, humour, alliterative phrases and other elements that reflect the series?
Talk about the sophistication of adverts and the importance of seeing beyond the surface. What is the advertiser trying to persuade you to do? Do you want to be persuaded?
Links with writing
Design posters, using

ICT

, for other books in the series which could be adapted for the stage, film or TV.
What additional fantasy features could be added? Eg, a Teleporter attachment to mobile phones that would transport the viewer back to the Measly Middle Ages, or a Lure-a-Pod which persuades historical characters to travel forward in time to visit the classroom.