Make a colourful gift bag full of treats for Easter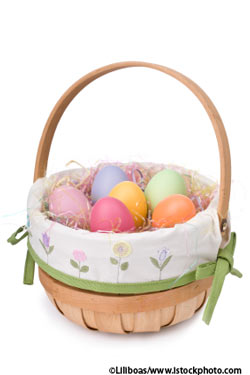 Knowledge and Understanding of the World
Early learning goal
Look closely at similarities, differences, patterns and change.
What you need
'Easter gift bag' activity sheet; safety scissors; glue; coloured pencils or felt-tipped pens; ribbon; shredded tissue paper; child-safe hole punch; mini Easter eggs.
What to do
Give each child a copy of the activity sheet. Invite them to colour in the chick and to use a variety of coloured pens and pencils to follow the zigzag handwriting patterns.
Encourage the children to cut around the thick black line and to use a hole punch to make four holes along the top edge of the picture.
Help them to change the 2-D picture into a 3-D bag by folding and gluing the two flaps as indicated on the sheet.
Invite the children to tie a ribbon through the holes to make small handles.
Provide shredded tissue paper and small wrapped sweets, such as mini Easter eggs, for the children to place in the bag as an Easter gift for someone special.
Find more activities like these in Christmas and Easter (Festival Fun for the Early Years series), available from Scholastic Ltd, priced £15. Call 0845 603 9091 or visit www.scholastic.co.uk