Create an illusion that the chick is hatching out of its egg!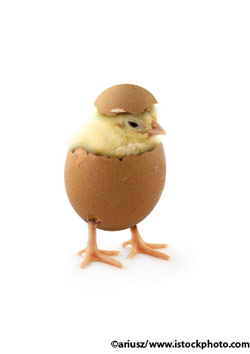 Knowledge and Understanding of the World
Early learning goal
Ask questions about why things happen and how things work.
What you need
'Hatching out' activity sheet; card; safety scissors; yellow felt-tipped pens; glue; child-safe hole punch; elastic bands.
What to do
Copy the activity sheet on to card for each child. Encourage the children to colour the chick in bright yellow and to cut around the dotted line. Help them to fold and glue the two pictures back to back.
Make a hole in each side of the disc using a hole punch. Thread an elastic band through each hole. To keep the bands in place, thread one end back through its loop.
Show the children how to twist the elastic bands around and around, then let go! As the disc spins, the chick appears to sit inside the cracked egg!
Encourage the children to talk about the illusion.
Further ideas
Make Easter gardens using natural materials such as small stones, twigs and flowers.
Help the children to match pictures of baby animals to their mothers.
Discuss the foods that we traditionally associate with Easter, for example, Simnel cake, chocolate nest cakes and hot cross buns.
Compare the traditions associated with Easter to other spring festivals.
Extension
Talk about new life using life cycle examples, such as caterpillar to butterfly, tadpole to frog, and egg to chicken.
Find more activities like these in Christmas and Easter (Festival Fun for the Early Years series), available from Scholastic Ltd priced, £15. Call 0845 603 9091 or visit www.scholastic.co.uk