...fun ways of bringing history to life using real research skills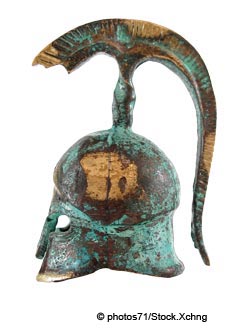 Step back in time – use props to help tell a story
1. Step back in time
Learning about local history is a great motivator for children. Organise a history walk in your local area and challenge the children to take photographs or make drawings of interesting historical architecture, monuments and street furniture. Back in the classroom, scan the photographs into the computer and plot them on a historical timeline. The oldest building in your locality might be the church, and a study of the gravestones could tell you about the families that lived in the area. You could research a particular family through census records, using an online archive (www.nationalarchives.gov.uk/census/default.htm). Alternatively, you might find evidence of an industrial past, such as a local canal, railway or bridge. Finding out when and why the canal was built and who used it in the past, could involve the children in some real research, with important links into geography and science.
2. Up my street
You can find out who lived in a particular street or house in the past by searching through census records online at www.nationalarchives.gov.uk/census/default.htm There's a small fee for downloading (£5 gives you 500 credits – 75 are needed to download a page). All you have to do is to enter an address and you can discover the names, ages and occupations of everyone living there, from the date of the first census in 1801. The census gives you clues to important industries and occupations in an area, as well as providing social information, (such as evidence of larger families and households with servants). You can study changes over time by comparing with an earlier or later census report. If your locality is a town, then street and trade directories provide another fascinating insight into the past. Go to the local library to find out where these are archived for your area.
3. Every picture tells a story
Photographs are valuable both as a resource and stimulus. At Images of England you can search from a collection of 300,000 photographs of listed buildings and structures in England, including lamp posts, post boxes, bridges and historic houses. Go to the 'Image Albums' in the 'Learning Zone' and you will also find information and tips on how to use the photographs in your lessons. There are National Curriculum links and you can download or adapt case studies with supporting activities. Search the extensive picture gallery at English Heritage's View Finder for photographs of England's industrial heritage. You can also read photo stories in the 'Stories' section. Arranged by theme, the stories set the photos in a real context for the children. The Royal Commission on Ancient and Historical Monuments of Scotland and of Wales have similar online archive collections with useful maps from the past.
4. It's a mystery
Ask open-ended questions to prompt enquiry skills. For example, you could ask: Were all children unhappy in Victorian Britain? or Did anything good happen during World War II? Encourage the children to raise questions and look for answers from a range of sources. If you are studying Ancient Greece, for instance, avoid asking the children to: Find out as much as you can about Sparta and Athens. Instead, ask: Would you prefer to be a boy/girl in Sparta or Athens? When looking at archive photographs, encourage the children to not only describe what's happening in a picture, but to imagine the sounds and smells of the past, too. For example: What can you hear? What can you smell? This will help them to empathise with the people in the photograph as being real people. Try also to retain a sense of mystery in the questions that you ask, comparing the children to detectives who are looking for clues to the past.
5. Victorian shoppers
Visit Sainsbury's online virtual museum (www.j-sainsbury.co.uk/museum/museum.htm), where you can take a tour of a Victorian Sainsbury's store. Visit 'People at Sainsbury' to find out about working conditions, (a typical Saturday was 6am till midnight, and junior staff were paid eight to ten shillings a week, plus their board and lodgings) or enter the 'Children's gallery' to view archive photographs and documents from the first Sainsbury's stores: shop fronts, advertisements, Victorian tiles, stained-glass windows, products, packaging and labels. The 'Reference library' has details on Victorian currency, weights and measures, and conversion charts for £sd. The 'Rationing' section is also interesting, describing how food rationing was implemented in World War II.