Why you shouldn't shy away from Shakespeare
29 February 2008
Add to My Folder
This item has 4 stars
of a maximum 5
Rated 4/5 from 1 rating (Write a review)
Is reading Macbeth in class too much toil and trouble? Is studying A Midsummer Night's Dream a pain in the bottom? Then try Campbell Perry's inspiring ideas and introduce lower juniors to the great playwright
Be honest! As a teacher of lower juniors, does the thought of working with Shakespeare's plays make your heart sink or your spirits rise? Or, do you think that there's no point because the children will come to it when they're older anyway. Your reaction may depend on your interests as a teacher or, more likely, your own experience of studying Shakespeare at school.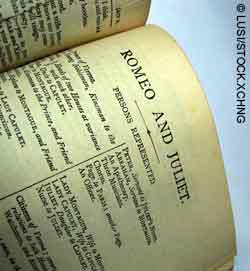 My work as a writer and drama practitioner takes me into a lot of schools, and I have used Shakespeare with children as young as Year 3. These have been practical drama sessions, concentrating on interpretation of the story, savouring some short bits of language and acting out. And before you say that you don't have time, Shakespeare isn't suitable for young children or studying it will put them off for life, I want to give you some ideas to explore and develop, which I know will work – and, more importantly, children enjoy them.
Start with the story
Working with the story is, I think, the most important way of introducing children to Shakespeare. Start with a play you know well, such as Macbeth or The Tempest. There are accessible compilations of plays and stories, either in books or on DVDs, to make it easier for you (see Resources).
My advice would be to stay away from the text and concentrate on acting the story out. A good method for this is the 'Story Stick' approach. First, learn the story so you have the main points in the correct sequence. Sit the children in a circle and tell them that the acting space is in the middle. Say that you are going to tell a story and any of them can be the characters; they have to either raise their hand or step into the circle and you'll choose people. They mustn't worry if they don't get a part, because when you stop the story at particular places and give them a signal (eg, shake a tambourine or hold up an object) everybody clears the space, sits down in the circle and waits for you to carry on with the story. When you do so, others can be given the opportunity through stepping into the circle or raising their hand, to take a part.
This is a good way of allowing children to take part at a level which suits them. It allows the less confident children to sit and watch until they become at ease and prevents others from hogging the parts. It is a fun way of active storytelling and a good way to introduce Shakespeare as a teller of stories, not as a writer of old-fashioned language which they struggle to pronounce, let alone understand!
Choose a strong story like Macbeth or The Tempest – intrigue, jealousies, power struggles and magic – children love them!
Resources
Easy Reading Shakespeare: The Bard in Bite-Size Verse Richard Cuddington (The Book Guild Ltd). ISBNs: Volume One – 978 18577 69111; Volume Two (containing As You Like It) – 978 18462 40003.
Tales from Shakespeare Charles and Mary Lamb (Harry N Abrams Inc, 978 08109 94539)
Stories from Shakespeare Anna Claybourne (Usborne, 978 07460 88036)
www.rsc.org.uk – For information on teaching Shakespeare and courses for KS2 teachers.
Developing ideas
Developing ideas from the storytelling phase is the next stage. A technique called 'Role-on-the-wall' is fun and crucial to understanding characters and events.
Ask the children to draw one or two of the key characters (eg, Caliban from The Tempest) on a big piece of paper. Pin the picture up and ask them to think of what Caliban does in the story. Write these around the outside of his portrait. Now ask them to think about what sort of person he is. Write their answers inside his portrait. This is a good way of building crucial information that will help explore the story in greater depth.
You could develop the storytelling through shadow puppets (easily made from card) and get the children to tell the story themselves. They might want to use film and make short pieces in groups before collecting and editing them into a class film.
Reading Shakespeare's text
It is a challenge to introduce children to original Shakespeare text, but one which is important. It is his language and poetry after all that single him out as a genius.
Take short snippets of text and play with them. Let the children roll the words around on their tongues. For example, the witches' spell in Macbeth: they can chant it as they move round their cauldron, creating images of witches. They can also write their own spells.
A way of showing the 'timeless' qualities of Shakespeare, is to use modern media to interpret scenes. For example, in As You Like It we are taken into a forest. Create the forest environment and write some advertising jingles to entice people there. Jaques' speech ( 'All the world's a stage…' ) is perfect source material for a cartoon illustrating the ages of man. Or ask how Macbeth would advertise his castle to regain his popularity? Would he host weekend 'Murder Breaks'?
Putting on a performance
Shakespeare's plays were written to be performed, not just read. Interpreting the story in a way that gives it meaning is fun and essential to the understanding of the work. It is also the way to fire up a fascination with possibly the world's greatest playwright.
So go on. Explore! Find ways to get inside the stories, interpret the text and act it out in your own original way.