Whip up a healthy and tasty frozen yoghurt treat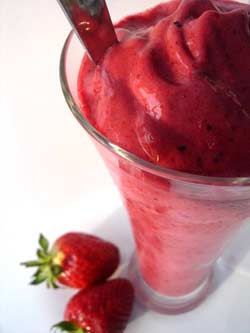 Frozen yogurt with Pure Sweet is the perfect sin-free pud
This fabulously delicious pudding is just as good as ice cream but low in fat, thanks to Perfect Sweet xylitol, sugar free, bursting with vitamin C and can be made in minutes – no need to freeze in advance or churn every four hours. The live yoghurt also provides plenty of immune and digestion-boosting probiotic bacteria, while the berries are packed with antioxidants and vitamin C.
Serves 4
400g (14oz) frozen mixed berries (available in bags from supermarkets). Leave the frozen fruit to defrost for a few minutes first if your blender won't cope with fully frozen ones.
400g (14oz) live natural yoghurt
4 tbsp Perfect Sweet xylitol, or to taste
Blend together until smooth and the consistency of sorbet or frozen yoghurt. Eat quickly before it melts (if it does melt it makes a scrummy drink).