The latest edition in the Literacy Time PLUS series of How to… posters covers punctuating and setting out dialogue correctly. It gives examples of different styles of dialogue used in both fiction and non-fiction and contains plenty of tips for ensuring children use dialogue effectively.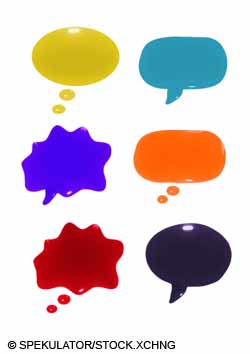 Shared learning and teaching
Before reading
Show the quote from Alice's Adventures in Wonderland. Allow the children to discuss this idea with a partner or in a small group before collating ideas and drawing conclusions as to the importance of dialogue in texts.
Do writers only use dialogue in stories? Brainstorm different texts in which dialogue is used – graphic novels and comics, quotations, direct and reported speech in newspapers, etc.
Sharing the resource
Show the complete poster. What is the purpose? Who is the intended audience? How has the writer ensured the reader can navigate the text easily? What is the purpose of the sub-headings, different fonts, brackets, ellipses, dashes and bold print? How effective is the layout? Discuss these elements as a whole class or let the children talk in pairs then feed back.
Discuss the reasons for using dialogue – eg, comic and dramatic effects. Show examples of types of use – eg, the Grand High Witch in Roald Dahl's The Witches has both comic lines and dramatic speeches.
Previous learning
Children would benefit from having had experience of dialogue in narrative and non-narrative texts.
Key learning outcomes:
To use evidence from a text to explain ideas;
To explore how writers use language for comic/dramatic effects;
To vary pace/develop viewpoint through direct and reported speech;
To adapt sentence construction to different text types;
To punctuate sentences accurately, using speech marks.
Group and guided activities
After reading the poster, use its advice to write a short paragraph of direct dialogue then swap and annotate one another's dialogue with the rules of direct speech.
Analyse the poster text structure and use of language. Discuss the punctuation used and its effect. Try writing sentences using some of the more complex punctuation.
Highlight examples of dialogue in a range of narrative and non-narrative extracts. Label direct and reported speech; annotate direct speech with the appropriate rules; spot double and single speech marks; turn graphic call-outs into direct speech or reported speech. Discuss reasons for the use of dialogue and note its effect.
Using a thesaurus, create a bank of tag words. Use them to improve paragraphs of direct speech or to replace missing words in pre-prepared extracts.
Improvise the next part of a conversation from a class novel, then write it as direct or reported speech or as a script.
Show a montage of dialogue from fiction and non-fiction. Can the children work out what kind of text the dialogue comes from? How did they know?
Use graphic novels or cartoon strips with plenty of graphic call-outs and challenge children to write a section of the story in paragraphs adding in the dialogue, using the correct format.
Independent activities
Create a bank of examples of the different types of speech in fiction and non-fiction, using the activity sheet.
Re-write examples of non-standard English speech as standard English speech and vice versa.
Write paragraphs involving dialogue for a variety of scenarios, perhaps to build tension or create a comic effect.
Further reading
www.classicalcomics.com – find out about unabridged Shakespeare plays produced as full-colour graphic novels in Original text, Plain text and Quick Text formats.
Stormbreaker – The Graphic Novel Anthony Horowitz and Antony Johnston, illustrated by Kanako and Yuzuru (Walker, ISBN 978 18442 81114)
Plenary
Ask children to explain how to use direct speech and how to punctuate it correctly.
Invite children to place punctuation in unpunctuated sentences of speech and dialogue.
Discuss the different types of speech and when each type is best used.