Motivating struggling boy readers is an on-going problem, and while Jim Knight MP suggests that there are no 'easy, overnight solutions', it is never too late to start trying – Paul Blum explains how.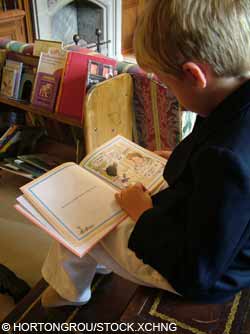 Why do boys struggle?
Forcing yourself to sit down and concentrate on a difficult and laborious task is hard for even the most disciplined adults. So, understandably, a child who has lost confidence and interest in reading finds it very hard to settle down and read with their peers. Of the 20 per cent of struggling readers in the UK, the majority are boys. Faced with a reading session, they will do almost anything to avoid or delay reading, from holding the book upside down, fidgeting and yawning to chatting. Having never got to grips with reading, they dread the prospect of tackling even a few sentences in front of their peers.
This lack of confidence is a real hurdle that needs to be overcome before their ability can improve.
10 pillars of good practice
There are ten trialled and tested practices which, when applied together, can provide a blueprint for successful reading and make a true difference to boys' reading ability and enjoyment.
Before your reading session, carry out an accurate ability assessment using one of the many available reading tests. Deciphering the reading level of each child means you can find appropriate resources that will not be too challenging to be effective.
Create an error-free environment. Teach using a small, step-by-step approach, so it is almost impossible for the children to feel unsure of what is going on.
Encourage 'over learning'. Repetition allows children to gain confidence in their ability which, in turn, will help them to read more complicated texts. If boys read several texts, all pitched at the same level, they will be able to begin to enjoy reading before being pushed again. If children are constantly stretched beyond their capabilities, it can have negative consequences on their ability as well as their confidence.
By the time boys reach late junior or early senior years, phonics will already have been tried and will have failed with these learners. So try to introduce phonic techniques that have not yet been used with the group.
Give reading a real dimension by using everyday materials in class – such as signs, magazines and newspapers. This shows that reading is a necessary and useful life skill.
Use praise and rewards every five to ten minutes. For children in their upper primary, and lower secondary, reading is as much a matter of confidence as ability so positive reinforcements can have a very noticeable effect.
Replace anodyne, poor quality materials with age-appropriate, relevant books that will genuinely interest the readers.
Make sessions entertaining so that children will associate reading with enjoyment. Using a variety of methods, media and techniques will stop them from getting bored.
Give each child short, simple, personal targets. Boys in particular are, by nature, highly competitive and will gain great self-confidence by meeting their own achievable targets. They will then strive to progress further.
If possible, involve parents. If reading can carry on at home, children are more likely to succeed.
Class structure
It is vital to get the structure of a small reading group right: too long and concentration and enjoyment will wane, reading will become error-prone and self-confidence can be damaged; too short and it is an opportunity lost. Reading should last no longer than 20 to 25 minutes, as for struggling readers it is an intensive activity that requires high levels of concentration.
Start the session with a warm up. Introduce the books by asking individuals to read the ISBN, title, author, publisher or any other short information on the front and back covers. Then ask the group to discuss what type of book they think it is and what might happen. This will break them in gently to reading and prepare them for what sort of adventure to expect.
During the session, introduce a variety of ways of reading aloud. If you read around the circle, it gives children the chance to switch off and lose concentration and motivation. Instead, ask readers to choose the next child to read so that the group always has to be on their toes and ready to read throughout the session. The element of surprise will also heighten enjoyment.
Give children autonomy in their reading, allowing them to read only as much as they feel comfortable. Forcing self-conscious readers to tackle a whole paragraph can be detrimental compared to a couple of sentences of confident reading.
Towards the end of the session, introduce some writing activities. This relieves the intensity of reading and builds on skills developed in the group.
Teaching techniques
When children struggle, avoid the temptation to prompt them. Allow them to help themselves, using methods like chunking – looking for smaller, recognisable words within longer, more complicated ones.
Encourage children to read more slowly so that they have time to concentrate on all aspects of reading, including meaning. The unconfident, struggling readers in the group will frequently focus all of their attention on reading aloud, rather than on understanding what they are saying.
Choosing the right materials
Children' lack of interest and confidence is made worse when they are confronted by patronising texts with the correct language level but completely inappropriate content. Even though these children struggle with reading, it is still important to introduce them to a wide and relevant vocabulary as well as varied sentence structures and texts with absorbing, gritty storylines. Books with strong images can also stimulate their senses: facing pages of solid text will look daunting and unappealing, whereas books with bright photographs or interesting illustrations will instantly be more engaging. See our Recommended reading list.
Recommended reading
For details of The Extraordinary Files by Paul Blum and the fiction and non-fiction series, Download, published by Rising Stars in association with NASEN, go to www.risingstars-uk.com
The Skateboard Detectives: Priceless Andrew Fusek Peters (Orchard, ISBN 978 18461 66075).
Visit www.barringtonstoke.co.uk for a range of high interest, low reading age novels.
Go to the DCSF website for a reading list of titles that will engage KS2 boys.
Boys who have difficulty reading, even aged nine to 14, are not a lost cause. In any skill, learning becomes increasingly difficult the older a person gets, particularly when there are a lack of resources. But, given materials that reflect their interests and the right techniques, reluctant readers can become motivated confident readers.