Try something different this World Book Day! Discover how one school recreated the magic of a bedtime story right in the middle of their school hall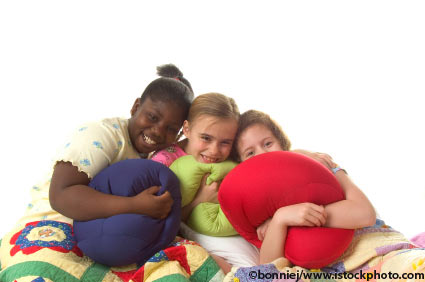 Children were encouraged to help recreate a bedtime story setting
At our school we wanted to do something on World Book Day that would allow the children time to really enjoy sharing books. In an education system that places such an emphasis upon reading to improve ability, it was important for us to organise an event that did not place the focus upon reading skills, but emphasised the importance of reading for enjoyment alone. We decided therefore to invite the children to wear their pyjamas for the afternoon and share some 'bedtime' stories. This resulted in much excitement in itself, particularly when some members of staff joined in!
The entire school was brought together in the school hall and invited to sit with bedtime toys and in pyjamas
Slumber party in school
Instead of our usual 'celebration' assembly, we hosted a special bedtime story. The entire school was brought together in the school hall and invited to sit with bedtime toys and in pyjamas to have a special story read to them. Staff had prepared overheads (drawn by the more artistic members of staff among us) which allowed all the children to be able to share the illustrations as they listened to the readings. The children were riveted and listened beautifully, with dimmed lighting that imitated a bedtime ambience. Perhaps, it could have been an idea to have allowed the children to take a vote as to which story was chosen, but there were no complaints on our choice of book! Due to the calming nature of the activity, children left the school hall even quieter and fuss free than usual, ready to go home.
Once upon a time…
The next day, some classes decided to recap the experience and children were encouraged to use the storytelling assembly to produce a piece of writing, recalling the event. This involved using descriptive words that they could remember hearing in the story and stating preferences for events and characters… all going a long way to support literacy skills, without them being aware. Work was of a high standard, largely due, I'm sure, to the interest that the children had shown. Younger children were also invited to discuss the story, thus taking every opportunity to develop and extend their speaking and listening skills.
A storytime success
The amount of creative work that resulted from this one single event was of a high standard and often initiated by the children themselves. As we all know, that's often when the best work is achieved. This proved to be a thoroughly enjoyable event for all concerned!