Find out about the events in the life of civil rights campaigner Martin Luther King.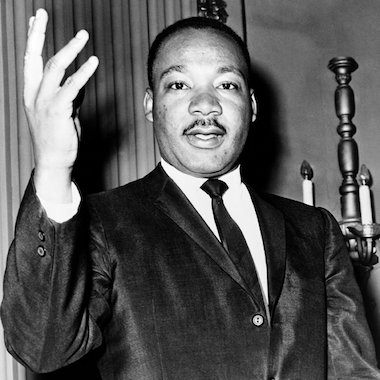 Sequencing events
NC links: History KS1 1a, 2a, 4a, 6c KS2 1a, 2a-c, 4a. Geography KS1 3b, KS2 2c
Begin by reading through the Activity sheet, 'Dr Martin Luther King Jr', together. Using the Activity sheet, 'Events in Martin Luther King's life', invite children to fill in the gaps, and then challenge them to put the key events in chronological order.
What makes a good leader?
NC links: PSHE and Citizenship KS1 1b, 2a KS2 1a, 2a, 2c Maths KS1 Ma2 5b, KS2 MA4 1a, 1c, 1f, 2b, 2c, 2f
Martin Luther King was a strong leader. The protests that he led brought about important changes in the law, and improved the lives of many. Brainstorm as a group what qualities make someone a good leader. For example, inspiring others, being persuasive, having strong beliefs, not giving up, treating people fairly, being brave, seeing things from other people's point of view. Children could work with a partner to rank these in order of importance, and then justify their views to the class. Or they could vote for the quality they feel is most important and then use a bar chart or pie chart record the results.
Feelings
NC links: English KS1 En1 1a, 1b, 2a, 2d, 3a, 3b, 3d, 4a, 4b, 4c En3 1a KS2 En1 1a, 1c, 1e, 2a, 2b, 2c, 2d, 2e, 3a, 4a, 4c En3, 1b History and PSHE & Citizenship as above
Use the 'zone of relevance' technique to explore the feelings of the black people suffering segregation in the Southern States. Draw a large target board made up of three concentric circles. Around the edge display a range of feelings words, such as angry, frustrated, sad, calm, happy, lonely, worried, despairing, distrustful, powerless, downtrodden.
Invite children to come and position the words in turn onto the target: the more appropriate they think a word is, the closer to the centre of the target it can be placed. This could be a starting point for some writing, a diary extract for example, from the point of view of someone in the photograph.
Show children the photograph of the crowds listening to Martin Luther King give his famous 'I have a dream' speech at the Lincoln Memorial in Washington D.C., and if possible listen to a recording of him giving the speech. King described the march as 'The greatest demonstration for freedom in the history of our nation.' Invite children to imagine they are a member of the crowd who has marched peacefully to protest at racial inequality. Talk about what the atmosphere might have felt like on that day.
Give each child one of the persuasive sentence starter cards from Activity sheet, 'Persuasive sentence starters'. Move around the group, and touch each child lightly on the shoulder. As they are touched, children read out the sentence starter, and complete it in role. For example: I believe… that everyone should be treated the same. Encourage them to put the same conviction into their voice as they hear in the speech. Explore how they feel having heard everyone's sentences.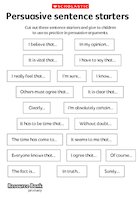 I have a dream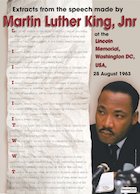 Having read or listened to King's famous speech together (for example, using the Poster, I have a dream'), agree what his 'dream' was about.
Children should then consider what their dreams are to make the future a better place for everyone. What would they want to change so that society is fairer? Share ideas. You could then give each child a strip of paper with 'I have a dream that…' written on it. They should complete the sentence. Go round the class listening to each child's dream, and in turn join them together into one long paper chain of dreams. This would also work well using a chain of 'paper dollies', and would make an effective classroom display.
Finally, children could find out about other winners of the Nobel Peace Prize, for example Nelson Mandela, Aung San Suu Kyi, the Dalai Lama or Mother Teresa. What dreams for equality and fairness did these individuals have?