Make wild flower decorations, flower garlands, a mini-pond and even a snail hotel!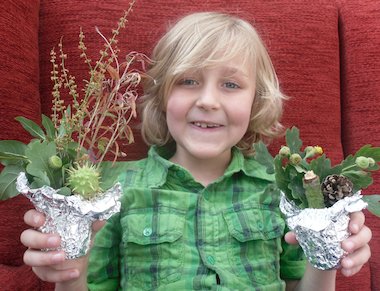 Most of the following art and craft activities make use of natural objects easily found in any woodland, park or garden. The collecting of these objects is a lovely activity in its own right – everyone loves a treasure hunt, and it's good to use natural objects in craft sessions sometimes – the textures, smells and colours being lovely to work with
Key Stage 1
Make a wild flower table decoration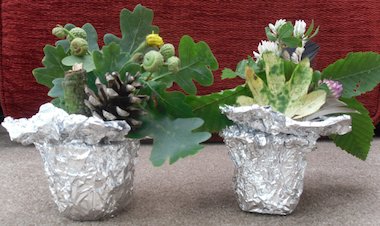 This is a great activity to take outside where children can sort through their collections of bits and pieces without making lots of tidying up afterwards – everything's easily swept up outside
You will need:
1 carrier bag per child
Baby wipes
1 little pot per decoration – for example, yoghurt pots
Baking foil
Small piece of plasticine or play dough
Start the activity off with a treasure hunt. This could easily become a day's activity on its own – children love hunting for things and seeing what they can find. Make sure every child has a carrier bag so they can keep their own bits separate from everyone else's, and also collect your own bag of objects to ensure there will be enough suitable things for everyone's decoration, as you may find some children have filled their bags up immediately with handfuls of fallen leaves and mud. Look out for bits which will be good for sticking in pots – twiggy bits with leaves on are good.
Have little pots ready covered in foil, bunching foil up a bit around the top of the pot for a nice effect – no need for any glue, and put a little lump of plasticine or playdough in the bottom of each pot. Now just hand out the little pots and let children create their own decoration, giving help as needed. Try using this activity at different times of the year as children will find different natural objects depending on the season.
Pressed Flowers
Try taking a few nice leaves and flowers from each child's collection and pressing them between a couple of sheets of tissue paper in a large book. Place the book under more books to give it a good squeeze, and carefully open it up every week to show children how things are coming along. Once nicely pressed, you could arrange objects on a sheet of paper and laminate for display in your setting. Also, let children have a look and feel of the pressed flowers, as although they are very delicate, this is all part of the experience; working with natural objects being very different to working with man-made materials.
Flower garlands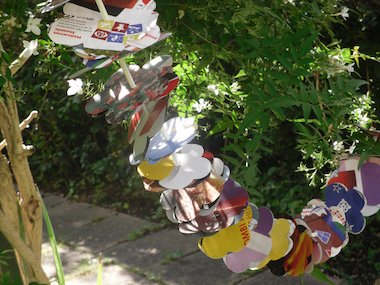 You will need:
A large needle and thread
Old magazines/scrap paper
Plastic drinking straws – stripy or brightly coloured
Flower templates made from stiff card
Method:
Before you start, have children sort out the most colourful pages from the magazines and snip the drinking straws into small sections.
Next, demonstrate how to fold paper over to give multiple flowers, and using a template, draw flower shapes.
Cut flowers out, then demonstrate threading a few flowers followed by a section of drinking straw, placing the most colourful flowers on top each time. Children love to see how long they can make the garland, and you can easily join in some new thread once you've come to the end.
When finished, use as part of a flower themed classroom display.
If you use elastic thread, you can make necklaces in the same way which are really good for selling at a school fair or as part of an industry week project.
Make a slug and snail hotel
This is a good activity to use when planting flowers with your group as slugs and snails do love seedlings, and although this won't altogether stop your plants getting eaten, it should help a bit – and it's a fun way of looking at habitats in the insect kingdom too.
You will need:
A couple of clay flowerpots
Some lettuce leaves or dry dog food
A few twigs
Method:
Find a shady spot near your seedlings and water with a watering can (slugs and snails like damp places).
Place the flowerpots on the damp earth, lying on their sides.
Put a few lettuce leaves or a couple of teaspoons of dried dog food in each flowerpot.
Check throughout the day for slugs and snails and anything else that may have crept in – you might even find a toad.
Plate, cup and spoon flowers and butterflies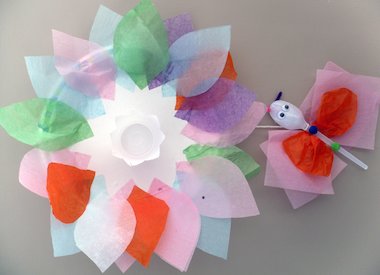 Children love to use familiar objects in unusual ways during craft sessions, and these colourful flowers and butterflies really do look lovely. Make them over a couple of sessions to give plenty of time to get all the gluing done.
You will need:
1 white paper plate, 1 paper or plastic cup and 1 plastic spoon per flower
Pre-cut tissue paper petals – any colours
Some extra scraps of tissue paper for butterfly wings
Glue
Sticky tape
Googly eyes
Short length of string or ribbon for hanging
Little pompoms, sequins or similar (optional)
Method:
Arrange the tissue paper petals around the paper plate, overlapping slightly to give a nice effect and glue into place.
Cut a zigzag pattern into the top of a paper or plastic cup to give a petal-like effect and glue to the middle of the plate for the flower's centre.
For the butterfly, glue two googly eyes to the bowl part of your plastic spoon, and tape some tissue paper wings to the handle – using two contrasting colours to give a nice effect. You can also decorate the butterfly's body to make it more glamorous!
Use a short length of string or ribbon to attach your butterfly to your flower.
Alternatively, you can cut petals from colourful pages from old magazines and make the flower's centre either from small rolled up pieces of coloured tissue or crepe paper, or, from little sequins, coloured shapes and sparkly bits and pieces – which also gives a lovely effect.
Key Stage 2
Make a mini-pond
Ponds are great for attracting all kinds of wildlife into your playground, and the best thing about this mini-pond is you can build it anywhere; all you need is a quiet corner. You're pond will attract all sorts of creatures – pond skaters, dragonflies, maybe even a frog or toad and birds will love drinking from it too.
You will need:
An old washing up bowl
Some gravel or small stones
A few pebbles and twigs
Some pondweed – if possible
Method:
First of all, decide where you're going to put your pond, either digging a hole just big enough for the bowl to fit in, or alternatively, have it sitting on the ground, in which case you will need to build up the sides with large stones and twigs, so wildlife can climb in and out.
Give the bowl a bit of a wash to make sure there are no traces of chemical products in it which might harm wildlife.
Pour in a layer of gravel or small stones to a height of about 2cm.
Next, arrange pebbles around the edge of the bowl and pile them up in one corner so creatures can climb in and out.
Using a jug, carefully fill your bowl with water right up to the top, again, so creatures are able to climb in and out – remember to keep the pond topped up, especially in hot weather.
Add pondweed by simply fixing the roots under a large pebble, and add some extra pieces of wood and pebbles around the edges of the bowl to provide extra shelter and to attract a variety of wildlife.
Make regular checks to see what creatures are visiting your pond, using spotter's guide books and the internet to identify what you find.
Rainbow hand shapes, paper plate flowers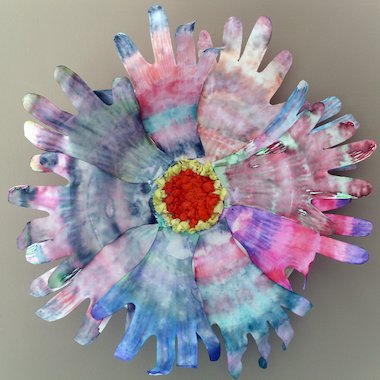 These look lovely, with the petals having a watery tie-dyed effect. This is a good activity for older Key Stage 2 children as a delicate touch is needed when handling wet paper. It's a good idea to have a couple of children working on the same flower as it takes a bit of time to colour in all the hand prints, but well worth it. They make a great wall display too.
You will need:
1 paper plate per flower
White A4 paper for the hand prints (we used printer paper)
Felt-tipped pens
Big paint brushes
Scraps of tissue or crepe paper
Water
Glue
Method:
Have children draw around their open hands and colour in completely with the felt tipped pens in lots of colours to give a rainbow effect – about ten hands per flower is about right. Encourage a bit of experimenting with different colour combinations, then cut out.
Using a large brush and a container of water, give your hand shapes a good soaking then leave to dry. They shouldn't take very long to dry on a fairly nice day, but you might need to put them under something to hold them down a bit if it's breezy.
While the hand shapes are drying, make centres for your flowers by first drawing a circle in the middle of a paper plate, using a cup or something similar to draw round. Next, roll up some small scraps of yellow, orange or brown tissue or crepe paper and glue these in place, filling in the circle.
Once the hand shapes have dried, simply glue in place around the centre of your flower-like petals.
Flower spiral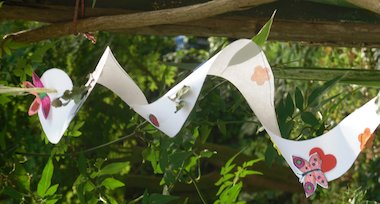 These really do look lovely and are just right for Key Stage 2, with children making them as simple or ornate as they like. You can use only scrap box decorations if preferred, but mixing in some natural objects does provide a nice contrast of textures.
You will need:
1 sheet of A4 size paper card per spiral
Small leaves and grasses, plus scrap box materials and old magazines
Small lengths of string or ribbon for hanging
Glue
Method:
Demonstrate how to draw a spiral, taking up the whole sheet of paper. Draw round something circular like a plate to get started.
Cut the spiral out before decorating, to enable decorations to overlap edges, giving a nice effect.
Add a hanging loop made from a short length of string or ribbon.
Decorate spirals with small leaves, grasses and scrap box decorations, drawing and cutting out little flowers and insects such as; ladybirds, spiders, butterflies and dragonflies to make it look lovely.
Hang near an open window to catch the breeze and watch it spin!