Use your leftover plastic yoghurt pots to make a fun pop-up bunny!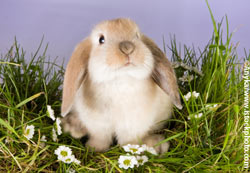 Physical Development
Early learning goal
Use a range of small and large equipment.
What you need
Small plastic yoghurt pots or flower pots with a hole in the base; dowelling; white card circles slightly smaller in diameter than the plastic pots; PVA glue; felt-tipped pens; strong tape such as insulating tape; white felt or fake-fur fabric; safety scissors.
What to do
Encourage the children to use felt-tipped pens to draw bunny features on to circles of white card.
Invite the children to cut out two rabbit ears using white felt or fake-fur fabric. Help them to tape the ears and a length of dowelling to the reverse side of the face.
Ask the children to glue a second circle of white card on to the reverse side of the face to represent the back of the bunny's head.
Show the children how to fit the dowelling inside the hole in their pot and slide it freely up and down to represent a bunny popping its head out of a flower pot.
Extension
Discuss why baby animals are often associated with Easter.
Find more activities like these in Festival Fun for the Early Years Christmas and Easter available from Scholastic Ltd priced £15. Call 0845 603 9091 or visit www.scholastic.co.uk