Adam Lancaster, Librarian and Associate Head Teacher at Monk's Walk School, Welwyn Garden City in Hertfordshire, was announced as School Librarian of the Year yesterday.
The award, sponsored by Scholastic, was given at a ceremony in London on 1 October. It was presented by Kevin Crossley-Holland, President of the School Library Association.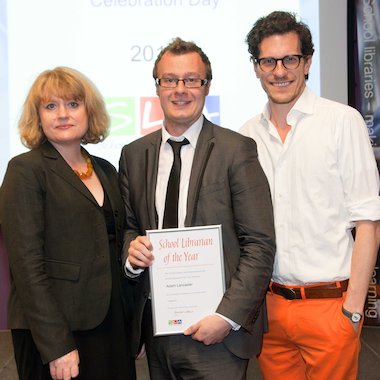 From left to right: Hilary Murray Hill, MD, Scholastic Children's Books; Adam Lancaster; Brian Selznick, author and illustrator of The Invention of Hugo Cabret
Adam Lancaster took up the additional post of associate assistant headteacher at Monk's Walk in September 2012 when the former 11-18 specialist science college achieved academy status. He is also a school governor.
The Monk's Walk library has a reading collection for parents and Adam and his assistant Fran support parents to create a reading climate at home. This means events and regular sessions before and after school and at weekends.
Adam says: "We are working to create a literacy-rich community which takes time and will benefit the school for generations to come. It's best to do things regularly on a small scale rather than a big effort once a year. Although we are not far from London there is not easy access to book events and activities for most people. Our local bookshop has closed in the past year and parents need to go somewhere for advice both related to our pupils and younger siblings. The families we work with vary a lot from those who are very keen for their children to make progress to those who are not confident with reading themselves. It's exciting work because the effect is potentially massive."
Find out more about Adam Lancaster and the SLA School Librarian of the Year Award here.