Allison Lee advises on how to deal with complaints; how to settle a child into your setting; and suggests some fun 'Traditional stories' activities for the home
Expert advice
Dealing with complaints
There may be times, despite how many hours you devote to your business or how many training courses you go on, when you receive a complaint from a parent. It is never easy to accept criticism, however, listen to what the parent has to say and, if you feel that they have a valid point, learn from what they are telling you.
If you feel that a parent is being unreasonable, explain why you feel this way in a calm and professional manner. Never resort to raising your voice or being rude, even if the parent is doing so. It is important to remember that working parents may be busy, tired or simply feeling guilty for leaving their child, and sometimes the stress that they are experiencing at the end of a long day is released when they reach your setting. In these cases, bite your tongue, remain polite and refrain from passing judgement. If, however, parents have a legitimate cause for complaint, it is essential that you are prepared to solve the matter as amicably and as quickly as possible.
Activities: traditional stories
Storytime frieze
Creative Development
Create a colourful traditional story board.
What you need
Card; range of collage materials; coloured paper; paints; paintbrushes; glue; crayons.
What to do
Choose a well-known traditional story to use as the basis for your story board. Draw and cut out shapes relating to the story, for example, three houses, three pigs and a wolf for the story of 'The Three Little Pigs'. Encourage the children to decorate the shapes using the collage materials, for example, cover one house with straw, one with twigs and paint a brickwork effect on the third house. Decorate the wolf with faux fur. Arrange the story pieces on the board and use them when telling the story.
Story puppets
Creative Development
Decorate puppets and use to act out traditional stories.
What you need
Cotton hand puppets ready to decorate (available from craft shops); fabric pens; wool; glue; wiggly eyes.
What to do
Invite the children to choose their favourite traditional story. Give the children a cotton hand puppet and encourage them to decorate it relating to the story they have chosen. For example, Rapunzel would need long hair made from wool, Red Riding Hood would need a red cloak and so on.
Suggest that the children put on a puppet show with their finished puppets and act out their favourite stories.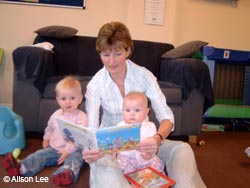 Q&A
How can I successfully settle a child into my setting?
Some children cope with change admirably and take new situations completely in their stride. Other children can be daunted by the prospect of starting in a new setting, particularly if they were happy with their previous childminder, or if they have always been at home.
Make the transition slowly and do not force the child to do anything they do not want to. If possible, work out a suitable programme, over a period of weeks or months, so the child can spend time getting to know you and the other children in your setting. Initially, and prior to the parent returning to work, aim for the child to be left with you for a couple of hours and slowly build the time up until finally the child spends a full day with you. Try to find out as much as possible about the child before you start caring for them, for example, their likes and dislikes, fears, favourite toys and activities and so on.