Everyone loves a good story. And after a visit from the Story Spinner it's not hard to see why.
Stories are essential to human beings. Through the millennia, children have sat at the feet of storytellers, looking up into their eyes and sharing their enthusiasm while they drank in the words and made the pictures in their heads. For although a storyteller tells the story, each listener is actively involved in spinning it. Indeed, depending on their own experience, children will imagine their own versions of the farmer, the meadow, the frolicking goats (and if some of them look more like sheep or camels, it doesn't matter – that can be sorted out later!).
Stories help us pattern experience and make sense of our world. Since time immemorial they've also helped children learn to focus their attention, to listen and to imagine. In this respect, stories are part of the essential bedrock on which all later learning is based – and we neglect them at our peril.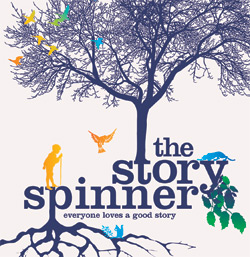 Getting in a spin
One of the problems of progress is that it can have unintended side-effects. While our 21st-century technological world is full of miracles, multimedia experiences have so far proved counterproductive to developing some of the basic skills young children need. However, once we've defined the unintended side-effects of progress, we can start reapplying technology to put things right. The Story Spinner DVDs (see 'Product information') do just that. It's not often that a new resource knocks me out so comprehensively, but this is something special!
A master storyteller stares out at you – directly at you – from the whiteboard. He engages your attention with just his eyes, face and words. It seems impossible that he can forge a personal relationship with a distant audience in this way. But, through the power of story, he manages it. Teachers tell how, after a short while, children seem to look beyond his face – focusing with their inward eye and spinning their own version of the tale in their heads.
Everyone has a front row seat. Everyone can make eye contact with Phil McDermott, who's a hugely experienced teller of tales and a drama teacher (12 years in primary schools and rated 'excellent' by Ofsted). Since he tells all the stories, he soon becomes a familiar male presence in the classroom, which is an added bonus for the boys. And his stories speak to everyone – from children with special needs or English as an additional language, through to the gifted and talented.
Cultural treasure trove
The tales have been carefully chosen to fit the demands of the new literacy framework. They're taken from a wide range of cultures, and use language that's rich but not exclusive. Teachers say children easily fill in the gaps of words they don't know. Soon, with opportunities to discuss the story and watch again, they learn them. This enjoyable repetition is how, through countless ages, children have acquired language – and by far the simplest way to increase vocabulary. But it's also how children through the ages have built up their understanding of ideas, feelings, people, places, and the verbal capacity to explore and express their world. These are the foundations on which literacy and learning can be built.
So gather your little ones around you, switch on The Story Spinner and prepare to be transported. This beautifully produced collection of tales is far more than an educational resource – it's a cultural treasure trove, and a very special personal experience!
Watching the stories
Here are some ideas you might like to try out after playing a story on your interactive whiteboard:
Encourage the children to retell the story. Make sure they know it doesn't have to be exactly as Phil told it – they may want to make up their own version.
Help children create costumes and props to act out the story. Keep these in labelled story boxes, so children can extend their imaginings into 'free choice time'.
Make cut-out pictures, models or simple puppets for children to use to act out the story while a partner retells it. Having sound effects or a percussion accompaniment will add atmosphere.
Talk about the characters and how they behave – collect words to describe them and display around the children's pictures.
Make a storyboard version of the tale, using a combination of pictures and words.
When children are familiar with the story, help them make up another version by changing one or more elements – setting, characters, season, and so on.
Collect 'special words' from stories that are new to the children or appeal to them in some way. Challenge the children to guess their meanings and to find ways to use them in their own talk.
In groups, ask each child to think up a question about the story for the others to answer.
Create a picture book version of the story as a class with children's illustrations and dictated or written captions.
But most importantly of all, just enjoy sitting back and listening!
Product information
The Story Spinner box set contains seven DVDs, one for each primary year, and each DVD contains six story sessions. The box set costs £399 plus VAT. For more information visit www.thestoryspinner.co.uk