Take the plunge and discover a mysterious undersea cave of wonders
This fantastic resource is best viewed full screen on an interactive whiteboard. Pointing at different areas of the screen allows children to move the keyhole and reveal sections of the picture. By examining what they can see through the keyhole, children will build up a picture of the room and its owner, via the different objects and details.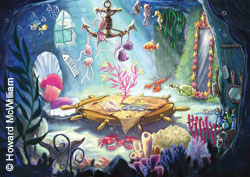 The mermaid's cave could be the starting point for a whole range of cross-curricular activities. Take a look at our A2 poster and accompanying activity sheets for lots of creative ideas to extend this theme.
Talking points
Through the fronds:
What lies beyond this seaweed curtain? Could it be another room – and if so, what might we find there?
Anchors away!
A lack of a wardrobe means that this ship's anchor has been put to a different use. Perhaps those bikini tops could be a vital clue to our homeowner's identity…
Mirror, mirror:
This Hollywood-style mirror is certainly eye-catching – probably like the person who uses it. Could our homeowner be a local celebrity?
Pop my cork!
What message could this floating bottle contain? Maybe it is a map to lost treasure, a plea for help, or simply someone's shopping list.
A girl must accessorise:
This coral makes a fantastic ring-holder – but, oh dear, one ring looks like it is floating away! Where might it end up?
Wheel of fortune:
When you live under the ocean you've got to make do with whatever you can find. This ship's wheel makes a great table – but what can we see on the cloth? Is that a treasure map?
What big teeth…
Sharks don't have the best of reputations. Does this scary predator mean trouble for our mermaid, or is he just guarding her home while she is away?
Beachcombers:
How many combs can you spot in this scene? Our homeowner obviously likes to ensure that her hair is salon beautiful – must be tough with all that salt water and seaweed!
Open wide:
Sit down and make yourself comfortable. This giant clam, complete with cushions, shows that the occupant has a keen eye for interior design.
Don't forget…
We have four other scenes for your class to explore. Check them out by clicking on the links below: