More schools are using the International Primary Curriculum to maximise outdoor learning. Not adopted the IPC? You're missing out
Taking learning outdoors shouldn't just be a case of half an hour of rounders or storytime in the sunshine. The outdoor classroom is a world full of opportunities for learning, creating and exploring. And building it into your lesson plans is not as difficult as it may first appear. Indeed, teachers at Camps Hill Community Primary School in Stevenage are using units from the International Primary Curriculum (IPC) to maximise their opportunities for outdoor learning.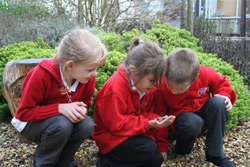 The units the school has selected are Plants and Flowers (Early Years) and Flowers and Insects (Years 1 and 2), just two of the 80 different IPC thematic units of work. Each IPC unit is cross-curricular, and the learning goals are cross-referenced to meet National Curriculum guidelines.
Elmarie Gunther, Reception teacher
Unit: Plants and Flowers
Plants and Flowers is a perfect IPC unit for early years. It was lovely to use our outdoors in such a fun, learning-focused way. We managed to do lots of planning and growing, including our beans for 'Jack and the Beanstalk' and tubs of daffodils on our patio area that the children could watch day by day. It was very easy to integrate numeracy into the unit, for example measuring our Christmas trees, counting our seeds, estimating quantities of sand and soil to go into pots, and comparing different sizes of plants. There was so much exciting investigation and learning through play, quite a bit of which was outdoors.
One of our parents has their own role-play company. They dress up as life-sized bugs, called Snip and Clip, and introduce the whole idea of flowers and growing and gardening. Our children loved it.
Tracking the growth of flowers in the garden was very exciting. We saw developmental changes that we would never have appreciated by just looking at pictures in a book.
We transformed our home corner into a garden centre, and each week we introduced something new to it. One week we had a flower shop; this involved taking orders, making up bouquets, and delivering them to the right person within the school.
Anna Gibbon, Year 1 teacher
Unit: Flowers and Insects
For our 'Entry Point' we went outside on a big insect hunt and tallied up what we found. The children really enjoyed it. When we did our 'knowledge harvest', it was clear that the children had quite a good knowledge of the most common flowers and insects. However, they had very little idea of the relationship between them.
Our big focus inside the classroom was a huge picture that we created of the life cycle of a caterpillar. This incorporated lots of different activities, including leaf printing, string patterns, block printing, symmetrical designs for butterflies, seed dispersal using giant sunflower designs and paperclip sycamore seed models, and identifying various habitats. But one of the best things about the unit was that we spent so much time outdoors. We used the copse area for observation; we went outside to experience seed dispersal; we explored our hedgerows; and we planned our new pond area, which involved some outside investigation as well as ICT.
As part of the insect hunt the children searched the field, copse and garden areas, turning over rocks, stones and wood to see what they could find.
The children created their own insects; some based on reality, others imaginary.
Kerry Hutchings, Nurture group teacher and environmental education coordinator
We have several raised beds in our vegetable plot where we grow onions, garlic, herbs, potatoes, carrots and pumpkins, and get our small trees growing ready for planting out. We have also created a sculpture garden, a wooded area and a discovery world with pond – all of which work really well with the IPC units. At first some of the teachers were wary about going outside, but they soon saw how much of an impact it can have on children's learning. Engagement is never a problem when the children are learning outside, and their sense of ownership in their growing and nurturing activities is really strong.
So much activity goes on here all year round and the children can get involved as much as they want. It's really fun when they are able to grow, harvest and then see their food being served in the school canteen.
The sculpture garden is designed as a quiet space. The children are able to watch birds nesting and witness a variety of wildlife, as well as take part in growing the plants and creating art for the outdoors.
Our woodland area is perfect for minibeast hunts, learning about the different species of trees, watching their growth, and seeing what happens to grass when it doesn't get enough sunlight or rain.