Come on up to the whiteboard… it's time to put your estimation skills to the test!
There are two areas of numeracy that KS1 children typically struggle with – one is money problems and the other is estimation. With this interactive challenge, you can test and reinforce children's skills in a friendly and fun manner. There are four different rounds to the game, each of which can be played individually or combined into a marathon game show. Can your class beat the game and win the trophy?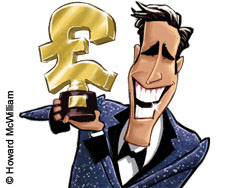 Guess the cost
'Money makes the world go around, the world go around… well, makes my head spin, that's for sure! You, on the other hand, will need a clear head if you hope to guess the correct prices of the featured items.'
Each item has a choice of four price labels. One is correct, the other three are false. Choose a label and drag it to the empty space – then click the 'check answer' button to see if the cost is correct!
The difficulty of this stage can be changed using the options menu on the title screen. Normal difficulty gives options with a greater variance, and hard difficulty presents prices that are closer in cost.
The order is right
'K'ching! It's round two and the game's hotting up. From bargain bin to top store essentials, put the five items in order of price. Take your time… one mistake could cost you big time.'
Drag and drop the five objects in order of least to most expensive. Click the 'check answer' button when you think the items are arranged correctly.
Lower or higher
'Is it lower or higher, higher or lower… the pressure mounts as we move a step closer to that grand prize. You'll need skill and luck as you cross the board. It's going to be a nail-biting finish.'
Work your way across the screen by revealing each card in turn. There is a pictured item on each card. The challenge is to guess whether the next item to be revealed will be higher or lower in price. If correct, you continue across the board; wrong and you must start over again.
Estimation station
'Come on over to the estimation station. This is the final round… calculate the total of these items and you'll be going home with the star prize. No cost-cutting in this game… we're talking the coveted "cost is correct" trophy. Ooh yeah!'
The final challenge is to estimate the total cost of five pictured items. Choose your answer from the three available and then click the 'check answer' button to see if you were correct.