Read&Write GOLD is Texthelp's world-leading software designed specifically to address issues that children with dyslexia face, namely reading and writing difficulties.

Texthelp Ltd. has been developing award-winning literacy support software for over sixteen years, to assist children with dyslexia (approximately 1 in 10 children having dyslexia, source: BBC website).
Our goal is to enable children with dyslexia and learning difficulties to learn to read, write, study and communicate with ease and independence.

Read&Write GOLD takes the form of an easy-to-use, discreet toolbar which integrates with all mainstream computer programs, enabling children to work independently in school and at home.
The software is proven to develop children's:
Reading and writing skills
Quality of work
Attainment levels
Confidence and self-esteem
Read&Write GOLD supports dyslexic users in schools, colleges, universities, the workplace and at home throughout the UK and worldwide. Our customers constantly provide feedback on how invaluable Read&Write GOLD is to them.
Sheila Barton, SENCo at Lostock College has been impressed with our literacy support software and enthuses, 'Read&Write has become a whole staff tool, not just used by SEN staff. The software has promoted the independence of all our students. It is a tool which has impressed all the teachers and made the whole process of writing, reading and organising so much easier. Dyslexic students have commented on how easy it is to use and it means a lot of their written work is now student driven and not teacher driven.'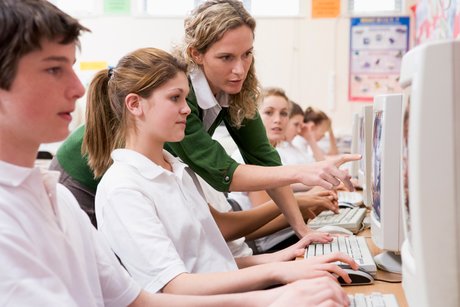 Read&Write GOLD presents pupils with a unique set of tools to assist with their learning, and provides the following benefits:
Help with reading
Read&Write GOLD reads text aloud and highlights each word as it is spoken. The high quality voices are human sounding and customisable. Paper documents can be scanned into a variety of formats, and read aloud using text-to-speech. Screen tinting options are also available to assist with tracking and prevent screen glare.
Increased comprehension
The picture and word dictionaries in Read&Write GOLD allow pupils to find definitions of words quickly and easily. The word dictionary also provides alternative words to help pupils expand their vocabulary. The picture dictionary provides a visual image to identify the meaning of an unknown word, improving word recognition.
Improved accuracy of work
The verb checker provides verb tables for more than 1500 verbs and helps pupils find the correct verb conjugation. The word prediction tool also improves accuracy by suggesting words as the pupil is writing.
Help with writing
Read&Write GOLD solves complex spelling and homophone errors, including phonetic mistakes. Dictionary definitions are provided allowing pupils to learn from their errors whilst improving the quality of their work.
Improved organisation
Read&Write GOLD has excellent study skills tools to assist any pupil to fulfil research projects independently. Pupils can store images and text from the web into their Fact Folder, and use it to organise their material, before producing a Word document with an automatic bibliography included. The Fact Mapper is an easy way of getting ideas down quickly by brainstorming them into a mind map.
Flexible learning
Read&Write GOLD promotes flexible learning by converting text into sound files, allowing pupils to access information on the move, on their MP3 player. This is an excellent tool for slower readers. The software can be used both in School and at home.
Download a FREE 30 day trial to see how Read&Write GOLD can support your pupil's reading and writing skills. You can also purchase Read&Write on our website (prices start from just £140 plus VAT).