The use of pigs in an education resource recently provoked criticism from BETT. Is there a climate of fear that counters common sense?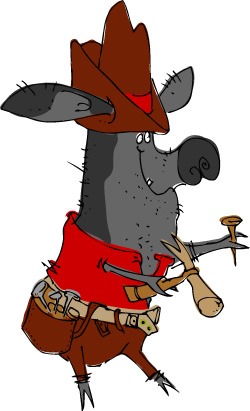 It never used to be like this. Teaching children of primary age was once seen as a golden opportunity, a chance to inspire, to nurture, to challenge. But now, it seems, motivating children can result in teachers and publishers laying themselves and their reputations on the line.
Liverpool schoolteacher Gillian Gibbons knows the feeling only too well. In November 2007, she ended up in a Sudanese court accused of insults against faith and religion after allowing her class of six- and seven-year-olds to choose a name for a teddy bear. They decided on Mohammed. Although Ms Gibbons was spared 40 lashes, she was sentenced to a spell in a Sudanese prison. She was only released after the intervention of two British Muslim peers, Baroness Warsi and Lord Ahmed, who brokered her freedom.
'I got more of an adventure than I bargained for,' Gibbons admitted once she was safely back in Britain. 'I don't think anybody could have imagined it would snowball like that.' The case made the headlines around the world and as a result, Gibbons has enlisted the assistance of a PR company to handle any media enquiries. When I asked if she would discuss her experience with ChildEd PLUS, her media agent swiftly declined. 'Gillian would never use the words "teddy" and "Mohammed" in the same sentence now.'
Motivating children can result in teachers and publishers laying themselves and their reputations on the line
Piggy in the middle
Nearer to home, Newcastle-based publishers, Shoo Fly, found themselves at the centre of controversy in January. In 2007, they had scooped three prestigious awards at the ERA, including an award for innovation for their 3D virtual pop-up book The 3 Little Cowboy Builders. But when the humorous update of the traditional 'Three Little Pigs' fairytale was submitted for the BETT awards, it fell foul of the judging panel. Feedback from judges expressed 'concerns about the Asian community, and the use of pigs raises cultural issues'.
'At first I was incredulous,' says Shoo Fly founder and creative director Anne Curtis. 'I didn't think anyone would take it seriously. But then I found out the feedback was in the public domain. One of the criticisms from the judging panel was that we were "cynical". In a worldwide market, that's very damaging.'
Curtis was even more surprised as she herself had researched The 3 Little Cowboy Builders at a culturally-diverse primary school in East Durham. 'I worked across the whole of Year 5 with their teachers for half a term. They had an Ofsted inspection in the middle and it was reported back that the children were "buzzing". I have never personally received any comments that in any way question its [The 3 Little Cowboy Builders] impact on the Muslim community in a negative sense. I've used it with children of that faith and there's been no issue and no comeback from parents.'
Kamran Salim, a Muslim scientist from Cambridge who read reports of the incident, says she is 'flabbergasted' that The 3 Little Cowboy Builders could be offensive to Muslims. 'Pigs and stories about them do not cause offence to Muslims. Many Muslim countries have wild pigs/boars and the fact of the matter is that Muslims are simply not allowed to eat them,' she explains.
A sting in the tale
Teaching traditional tales to children is an important part of the curriculum, Curtis believes, and giving them a modern spin is a key element towards engaging children's imaginations. 'As teachers, our job is to open children's minds up to other cultures. Teachers can become afraid, and there's a danger in that.'
When I approached the judging panel to ask to speak to a representative, requests were declined and I was directed towards a press statement: 'The reason The 3 Little Cowboy Builders was not shortlisted was that it failed to reach the required standard across a number of criteria… the issues highlighted were a small selection from a much broader range of comments.' It continued, stating that 'the product was not sufficiently convincing on curriculum and innovation grounds'.
'Children can actually make a pop-up book with their own story, that's why it won an innovation award at ERA,' Curtis responds. 'Small companies like Shoo Fly are trying to raise the bar. We're trying to explore traditional tales by capturing the essence of them – and that's part of the curriculum.'
There's nothing new about stories evolving or changing. During Victorian times, fairytales were often diluted to make them more suitable for younger audiences. Over time several versions of 'Little Red Riding Hood' have evolved: some in which the wolf devours the little girl; some in which she escapes. In one version of 'Rumpelstiltskin', when the dwarf is finally outwitted by the queen, he literally tears himself apart with sheer rage. Curtis believes these versions still have their place in today's classrooms. 'You have to value these stories within their own context,' she explains. 'Even with very young children I'd talk about how different life was when these stories were created. We're sharing stories and giving them a new take for the modern world. Children are very sophisticated; they don't need these routes closed off for them.'
It calls to mind reports from 2006 concerning the traditional nursery rhyme Baa Baa Black Sheep. As a result of 'racial concerns', pre-school children at two Oxfordshire nurseries were taught to sing Baa Baa Rainbow Sheep. Although the charity running the nurseries claimed the move was 'educational' rather than driven by political correctness. Maybe they had forgotten that in 2000, education chiefs in Birmingham warned that Baa Baa Black Sheep should not be taught for fear it was 'racially offensive'. The initiative was eventually scrapped after black parents dismissed the whole idea as ridiculous. Perhaps in this case, too, common sense will prevail after all.