Get ready for Easter with some simple egg-citing ICT activities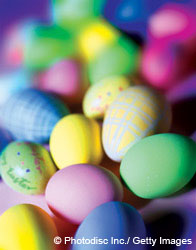 Bouncing bunnies
Use an object-based paint or drawing program, such as the Paint facility within Textease Studio CT, and clipart to create a fun, seasonal one-to-one number activity.
The example here uses Easter bunny and egg images. Encourage the children to pair up an image of a bunny with that of an egg by clicking and dragging the pictures across. Alternatively, use images of lambs, chicks or spring flowers.
The Easter story
Create a simple three-fold booklet from a word processor template. Prepare the template by dividing a landscape A4 page into three vertical columns. Invite the children to use the three sections to help them retell the Easter story. If necessary, add headings ('Holy Thursday', 'Good Friday' and 'Easter Sunday') at the top. Once complete, children can add an image to each section before printing the booklet out.
Egg-cellent art!
Invite the children to make simple Easter cards using a painting package. Encourage them to experiment with the oval drawing tool, until they can produce basic egg shapes. Then, let them use the 'fill' tool to create a patterned Easter egg. Most drawing/painting packages will also allow further experimentation with a different range of colours, by filling the shape at different angles or with different brush tools.
Terrific textures
Collect digital images of a range of textures from the immediate environment, such as brickwork, stone, bark and fabric. Upload the images onto the computer and ask the children to use cut and paste tools to create an electronic collage to illustrate part of the Easter story.
Food for thought
Let the children experiment with different Easter recipes (hot cross buns, Easter biscuits, chocolate nests, and so on). Then, ask them to write out the recipe and email it to a group of ePals in another school. The children at the other school can work through the recipe and email back with their comments or other recipe ideas.