Enjoying art shouldn't be an obligation. Just follow a few simple steps to get the most out of a gallery visit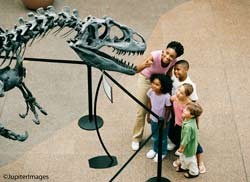 When I was very small, my family lived in Amsterdam and I was taken to the van Gogh Museum. The colours and marks made such an impression on me that I felt as if I was being sucked inside a multi-coloured, swirling snowstorm; the experience kick-started a lifelong affection for art.
Going to galleries with a group of children can be a huge amount of fun, and it can have a profound effect on everyone. In our modern world we are bombarded with visual images, so it's nice to slow down and really focus on one or two truly great works of art.
In general, it's better to absorb five fantastic paintings than just glance at 500
We are incredibly fortunate in the UK because we have an abundance of outstanding collections that are FREE! (By a fortunate historical quirk, masterpieces from every corner of the Empire tumbled to our shores!) Here are a few tips for getting the most out of a gallery visit with children:
Try to find time to do a little research with the kids before you go. Your shared experience will be greatly enhanced if you know a thing or two about the artists – many were very colourful characters! My Anholt's Artists series is designed as a first introduction to great art, and there are many other child-friendly resources.
Make sure that you are accompanied by at least one adult with some visual training. An art teacher, or a parent who is professional artist, can bring the work to life. Alternatively, most galleries have professional guides and it is possible to book a tour with someone who can offer real insight. Personally, I am not a fan of the audio headsets available at many galleries – they reduce interaction and discussion and dominate the gallery experience.
Art museums are often huge, so don't try to take in everything. It's fine to breeze through a whole room, then stop and focus on a few favourites. It's lovely to hunt for a particular 'friend'. In general, it's better to absorb five fantastic paintings than just glance at 500. Enjoying art should not be an obligation and actually (whisper it quietly), some art is boring!
Author biog
Laurence Anholt grew up in Holland. He fell in love with art at the van Gogh Museum. Laurence spent eight years at art school finishing with an MA from the Royal Academy. He still makes huge paintings and drawings and teaches courses at his studios in Lyme Regis. Laurence is one of the country's leading author/ illustrators. His 100 children's books are published in dozens of languages and have won numerous awards including the Nestlé Smarties Gold Award on two occasions. Many titles are produced with his wife, Catherine. The Anholts are the only authors to own their own bookshop; the extraordinary 'Chimp and Zee, Bookshop by the Sea' See more at www.anholt.co.uk
Now please don't panic, but the best way for a child or adult to form a relationship with a work of art is to make a copy. Most artists do the same thing. It's also the best way to get into the mindset of the person who created the image. You can work from reproductions in books or even better, take a sketchbook to the gallery and copy what you see as faithfully as you can. Start by putting down a border – is the painting a square or a rectangle? Then sketch in the main shapes – the gaps between objects are as important as the objects themselves; together they make a full composition. I can assure you that if you or your children spend half an hour copying a painting, that image will never be forgotten. It will be a friend forever. (I'm very chummy with Rembrandt's Woman Bathing in a Stream!)
This sounds tricky but stay with me… there are two aspects to many paintings, the narrative and the abstract. Many pictures tell a story (that tiger is frightened by the thunderstorm). But what makes a painting great are the abstract qualities such as the intelligent use of colour, composition of shapes, mark making, use of light and tone. It sounds daft, but try looking at a painting upside-down (in a book not a gallery!). It's still a fantastic work of art even if you can't see what it is – you are enjoying the abstract qualities of art. Study the marks the artist has made – are they swirly, spiky, smooth or spotty? This is their handwriting.