Assessing children from Reception to the end of KS1 is no easy task. Gerald Haigh discovers how the Infant Progress Toolkit measures up…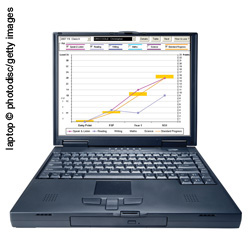 A powerful tool for showing the strengths and weaknesses of your classroom work.
It is increasingly important to not only track child progress over time, but to show evidence of how it is being done, and how the data is being used. Get this right and you have a powerful tool for showing up the strengths and weaknesses of your classroom work. Equally importantly, you have numerical evidence to support your self-evaluation as well as any conversations you have with your local authority or with Ofsted.
However, is it really possible to devise a workable method to measure a child's progress from point of entry in Reception to the end of KS1? There is plenty of evidence that heads and teachers wish there was. Rob Earrey, Head of Fitzjohn's Primary in Camden, says: 'We wanted to be able to show that we were enabling the children's progress through Foundation Stage and KS1, and that we were performing at a high level. We wanted to show Ofsted – to be able to say, "This is what we do".'
The difficulty is, of course, that different scales are used to measure progress over those years – FSP points, P scales, as well as National Curriculum levels. What was needed was a way of making the comparisons – coming up with a common scale – a single measure of progress. Rob and other Camden heads worked on this with Roger Watson, of Statistics for Education, suppliers of the Infant Progress Toolkit. Roger comments: 'We had many meetings, fine tuning, using our experience and judgement, and deciding which areas were important to assess. For example, we had some discussion over whether to include attitude and disposition, and decided in the end that it was important because it had such a big effect on reading and writing and maths.'
Trial versions were created and tested in action. The end result is the 'Infant Progress Tracker', which does just what it says by providing a measure of standard progress from point of entry across Foundation and KS1. (You can see this in action by viewing the demo.)
The Infant Progress Toolkit
A one-year subscription is £295; a two-year subscription is £495. Prices include importing school data (from multiple sources) and induction training. For full details, visit www.primaryprogresstoolkit.co.uk or call 01279 652 183.
Rob is the first to agree that it is not easy to assess the progress of young children, at a time when many of them are changing almost hourly, and he is emphatic that the tool has to be used with professional care and judgement. Nevertheless, he finds it extremely useful, in a primary school, to be able to see progress of individuals and groups all the way through.
'It's not an exact science, and in many ways the judgements are quite broad, but the good thing about the Toolkit is that we can see patterns of progress in the infant phase, and then see how they continue through to KS2.'