Assessment for Learning can help show how much a child really understands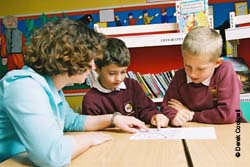 Assessment for Learning is about questioning, observation and discussion
As the demand to report progress through termly targets and sub-levels becomes increasingly more frantic, the word 'assessment' can be enough to drive many a self-respecting teacher towards the edge. Assessment for Learning however, is something quite different altogether. Rather than measuring what children can do, the aim here is to use summative and formative assessment as part of a dynamic process to directly improve their learning. Emphasis is on questioning, observation and discussion to build up a picture of just how much individual children understand about their work.
Talk the talk
Assessment for Learning obliges children and teachers to enter into a dialogue. It is based on the idea that children improve most when both the purpose of their learning and how they can make progress are made clear. It also requires the effective planning in of opportunities for children to reflect on their achievements. Strategies to achieve this include success criteria (see the April '08 issue of Junior Education PLUS) and self – or peer – assessment. The intention is to enable children to not only understand the 'what' of their learning, but also the 'how'.
Formative assessment has long been at the heart of good classroom practice. Every time you ask children questions, listen to and develop their responses or observe them on task, you have an opportunity to review their learning. As teachers, we regularly make judgements about whether children demonstrate a sound understanding of the concepts we cover, as well as what the next steps should be. Take this a stage further by encouraging them to have a more pro-active role that involves discussion, reflection and making decisions, and assessment can evolve into a two-way process.
Evidence of an effective AfL strategy can be gleaned from changes in children's attitudes to their learning
Underpinning the Assessment for Learning strategy is the idea that children will want to achieve more when there is a shared understanding of what they need to do. Use child-friendly language to explain the success criteria and show how these can be met in practice. Children may also demonstrate a greater commitment to their work if they perceive they have ownership of their learning.
Focus on the positives
Attention to failure can have a de-motivating effect on learners, so effective Assessment for Learning should nurture self esteem through the positive reinforcement of progress and achievement. Teachers need to understand why children in their class make mistakes and plan appropriate interventions and support. If the feedback we then give them is both sensitive and positive, children will continue to feel motivated about their learning. When their efforts are recognised and celebrated across the curriculum, all children will become encouraged to achieve their best.
A whole-school philosophy
Within a school team, different members may have different definitions of what Assessment for Learning actually means, so a coherent whole-school vision is essential. A successful AfL strategy will be one in which attitudes to learning are valued and there is a belief that all children can improve. The emphasis is on building trusting relationships which foster self esteem.
The progress of individual children in the school is measured against previous attainment using value-added data, rather than through comparisons with other children. Assessment for Learning is becoming a key professional skill for teachers, who need appropriate training and guidance to ensure that they can implement the strategy. Planning for assessment, observing and analysing learning, giving feedback and supporting self-assessment should all be supported through a programme of CPD.
To use Assessment for Learning effectively then, teachers need to know children well and be able to make judgements about their level of understanding. Learning objectives are shared and used as the basis for later feedback. Through discussion on success criteria and self-assessment strategies, children are encouraged to take more responsibility for their own learning. Examples of skills, standards and qualities are used to model success and help children understand what they are aiming for.
Evidence of an effective AfL strategy can be gleaned from changes in children's attitudes to their learning and their contributions to class discussions and plenary sessions. Moreover, when it comes to the next phase of summative assessment and subsequent target setting, you should find your children have made progress — as a result of being guided into ownership of their learning.
Further information on the principles underpinning Assessment for Learning can be found on the QCA website.