...so says the National Year of Reading. And, with the campaign's first theme, 'Read all about it', encouraging 'reading anything and everything, anywhere and everywhere' – we've put together some dip-in ideas to start you off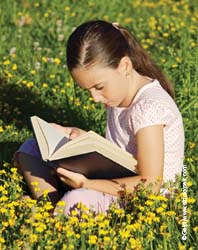 Read anything and everything, anywhere and everywhere
Anything and everything
1. Gather together a collection of magazines, newspapers, leaflets, encyclopedia's, fiction books, food labels, poetry, letters, emails, and so on and display them on a table in the classroom. Allow the children to come up in small groups and flick through the material – noting down any similarities or differences about each form of writing. What do they notice about the length of the text? Why do they think some stories might be longer or shorter than others? Who are the audience? Why would people be reading it? How are pictures used or, if not, why not?
2. Choose an object, animal or theme and challenge the children to find as much reading material that focus on it – from poems to podcasts, and newspapers to plays. Ask them to write a short description detailing what the reading material is about and what part the object/theme has in the text – fictional or otherwise.
3. Ask your class to come up with a 'word of the day'. Invite them to get in to pairs each day and spend five minutes with a dictionary, making a list of any new words that they find and like. Get together as a class and ask the children to feedback one of the words that they have found. Hold a class vote to find out what word they like the best. The winning word can be written on a large piece of paper – with the definition – and stuck on the wall. Challenge the children to try and get the word in to a sentence or conversation during the day.
Anywhere and everywhere
1. Set up different sessions in the school library or reading corners in classrooms. Encourage older year groups to recommend favourite books to younger year groups and classmates at break times. You could also set up specific sessions during the day that allow children to talk about things they have read – from current affairs stories to comic books.
2. Get a group of teachers together (and children if you like) to set up 'a right good read roadshow'. Teachers and children set up stalls 'selling' their favourite genre of books, be it adventure, fantasy, spooky or comedy. Their challenge is to 'sign-up' as many people as possible to their genre and encourage as many people as possible to take a book away with them to read. You could set up a 'returns' box in the library or school reception area.
3. If you have a school website, set up a books section and, if possible, invite the children to post short, snappy reviews of anything they have read for the school community to read.
4. Ask the children to tell you the best place they've read a book and where they think the worst place would be. Share your ideas, too.
5. If they could be transported anywhere to read a book, where would the children go and why?
6. Set up reading spaces in unusual places – outside under a tree, in a corner of the school hall – or, for a day, let the children choose where they want to read a book (within reason, of course!).
Visit the National Year of Reading website to get involved.