The best way to teach children the real value of money is to give them financial responsibility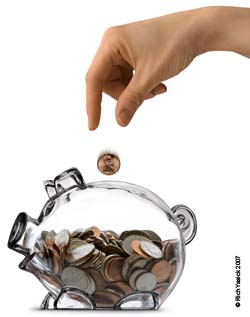 Year 3 at Halley Primary School were not the best at looking after their classroom property; lids were left off glue sticks, pencil sharpeners and erasers went missing and pens were often left to go dry. The teachers were tired of saying: 'Money doesn't grow on trees.' In fact, where did Year 3 think money came from? Taking part in the pfeg (Personal Finance Education Group) and HSBC 'What Money Means' project, turned around Year 3's thinking about money and their sense of why they should look after their classroom resources, as teachers, Sally Martin and Mich Maflin, explain.
'The project was essentially about responsibility, taught through an education topic that was interactive, motivating and relevant to real life. It stimulated discussion and the children's enthusiasm, and drove the creativity of the teachers who approached the topic from two different disciplines – maths and PSHE.
'You're in charge'
Project one was launched with a letter and hand-written cheque from the headteacher to Year 3, explaining that they, the children, were now in charge of their own classroom stationery budget. Group discussions of what was 'needed' in the classroom and what was 'wanted' encouraged debate and prompted the children to discuss and try to solve moral dilemmas around spending. Using and applying sophisticated maths strategies became an integral part of the pfeg experience as children considered the best way to work out costs for different items from a real price list. They effectively, and with apparent ease, solved problems that were quite different to what might be observed in a 'traditional maths word problems' lesson. The rich (excuse the pun!) language of budget-holding, money and maths was used widely and with confidence throughout the mixed-ability groupings. Spreadsheets were developed and purchasing plans presented for the class to decide on the best plan which would both allow them to spend, but also save money for future purchases.
Handle with care
Interestingly, when the new stock arrived and was unpacked by the children, they began to take far more care of the classroom stationery. No more did glue stick lids seem to disappear! Pencil sharpeners and erasers were counted and collected each afternoon before home time and handwriting pens lasted much longer.
But, the project did not stop there. Inspired partly by the children's interest, but also their huge misconceptions about money, the success of finding out that maths and PSHE sat quite comfortably together, and with the support of a pfeg consultant, we began to plan for project two.
The classroom picnic
During a quiet morning, another letter arrived from the headteacher. Year 3 children were ecstatic to hear that they would be allowed an end-of-term picnic. However, excitement was soon replaced by panic when an intercom announcement explained that the money to pay for the picnic would come from the classroom budget. A quick look at the spreadsheet confirmed they had saved just £1.11.
The sense of wanting something very badly and not being able to afford it, is something that many adults struggle with, be it a new car or a summer holiday. What do we do? Do we put the thought aside? Start saving? Or reach for the credit card? And what feelings does this induce in us? This is life – this is real-life learning!
The project was essentially about responsibility, taught through an education topic that was interactive, motivating and relevant to real life
A visit from the bank manager
Year 3 quickly discussed ideas for raising the money – from 'asking dad' and 'robbing a bank' to 'doing some fundraising' – ideas came thick and fast. We then had a visit from the 'bank manager', played by our pfeg consultant, who told Year 3 about ways of borrowing money, including debit and credit cards and loans. The bank manager explained that he would possibly lend them the money, providing the picnic was healthy, each person in the group would be involved in the presentation and that they could demonstrate they would be able to pay the money back and explain how they would do this.
Raising the cash
Motivated by the best group presentation winning their dream picnic, groups worked together to come up with ideas and again surprised us with not only their mathematical capability but also their ability to choose sensible, healthy options.
The winning group decided that Year 3 should borrow the money for a picnic and that they would hold a toy sale for Key Stage 1 to raise the money to pay back the loan. Each child brought in an old toy to sell. Posters about the toy sale were designed and displayed and golden time was spent pricing up the goods. The toy sale, held at lunchtime in the Key Stage 1 playground, was a roaring success with a grand total of £14.71 being made. Year 3 enjoyed their picnic and the satisfaction of purchase made for interesting discussions back in the classroom.
The real world
We, as teachers, were not advocating borrowing money but were giving children a safe platform to explore this option and the feelings and emotions that go with it. It's a reality of the modern world and a choice, that one day, our children are probably going to have to grapple with. Perhaps, as adults, when deciding whether to borrow money for a new car or holiday, they will think back to their What Money Means experience in Year 3 and have the knowledge, skills and understanding to make informed decisions.'