Help children to relax, and brush up on their craft skills, with these fun activities…
Juggling sheep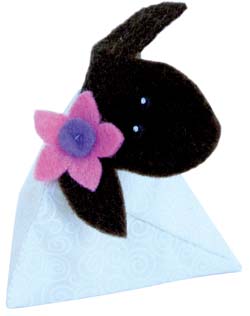 Making this simple-to-sew sheep is a great way for children to unwind during assessment time. A set of three make perfect juggling balls!
Skills: sewing; cutting; drawing
You will need: pinking sheers; cotton fabric; brown, green and pink felt; needle; cotton; scissors and plastic beans, lentils or lavender.
Using pinking shears, cut two 9cm squares of white or cream cotton fabric (patterned material optional).
Cut a head shape from brown felt (template provided in the April '08 issue of Junior Ed

PLUS

). Draw and cut out a flower shape from green felt and a circle from pink.
Place the squares right (patterned) sides together, and sew around three sides, using backstitch – allowing a 1cm seam allowance.
Clip the corners and turn right sides out. Fold in the 1cm seam allowance on the open end and join the two seams together to create a 3D triangular shape.
Tuck the shaded area of the head into the open seam at the far right side. Sew the far right side closed only, sewing through the head.
Sew the felt flower and its centre to the head using a large cross stitch.
Fill your sheep with plastic beans, lentils or lavender and stitch close the remaining section of the open seam.
Pirate treasure hunt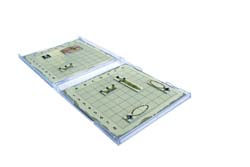 This variation of the brilliant logic game, Battleships, is easy to make and will help boost children's thinking skills.
Skills: ICT; cutting; drawing
You will need: CD case; computer and printer; cream paper; thick card; sticky-backed plastic; decorations; paint or felt-tipped pens; glue and scissors.
Using a computer, create three grids of 8×8 1.2cm squares. Number down the side and letter across the top of two grids. Print all three grids on to cream paper.
Create a title for the game using text and images. Print it onto cream paper.
Tear around two of the grids, and mount onto 12cm squares of thick card. Cut two squares of sticky-backed plastic to fit over the grids and stick in place.
Mount the third grid onto thick card. Cut it into the following playing pieces: one of 1×1 square, one 2×3 squares, one 1×4 squares, two 1×2 squares and two 1×3 squares.
Draw 'treasure' onto each of the playing pieces, and a skull and cross bones onto the 1×1 piece. Paint or colour them with felt-tipped pens. Decorate with glitter, gemstones or sequins.
Tear out around the game title, and stick to the back of one grid. Slide the grids into an empty CD case.
Subscribers can access Activity sheet, ' Roller ball game' for step-by-step instructions for making this addictive game to improve motor and concentration skills.