Lady Kira Dalton talks about a nursery she established in Serrekunda, the main residential township of Gambia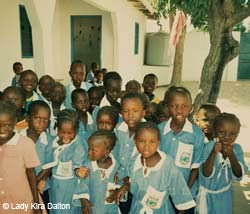 Kunta Kinteh Nursery was built solely by local parents as they were desperate for affordable, local nursery education. There is no Government funding for nursery education in Gambia, and the few private nurseries were too far away and much too expensive. All the building materials were provided by charitable donations from UK schools, other groups, and the African Oyster Trust Charity. Simple lunches were provided for the parents as an incentive while they were involved in the building work.
When the school opened in September 2007, there were 60 children waiting to be enrolled. Since then, another two classrooms have been completed and there are now 120 children. We are very pleased to have an almost 50:50 ratio of boys to girls in a country where female education is still considered an unnecessary novelty.
Nursery fees
Government-run primary schools accept children from age seven onwards, so the nursery enrols local children from ages three to six – their exact dates of birth are often not known.
As a sign of their commitment, parents are asked to pay a one-off enrolment fee of 50 dalasis (approximately £1) and to provide a simple school uniform, which most mothers make themselves for under £1. Thereafter, nursery fees are 10 dalasis (20p) per month. Average wages in the area are typically under £1 per day, and my aim was to set the fees at an affordable rate.
All fees are reinvested in school equipment and consumables. At a recent parents' meeting, everyone agreed the fees were sensible and affordable. Since the teachers live locally, I discuss with them the individual circumstances of any child not paying and, in some cases, agree to waive fees temporarily, for example, in the event of a parent's illness, death, sudden unemployment and so on.
Learning the curriculum
The curriculum concentrates mainly on teaching English, as the children have all been brought up speaking any one of nine local tribal languages. This makes my monthly parent/teacher meetings quite interesting – and very lengthy! Since their primary school education will be solely in English, this skill alone gives them a tremendous lifelong head start – future job opportunities will depend upon their English literacy and their numeracy skills.
The children follow a basic curriculum which also includes mathematics, social skills, simple science and history, as well as some art and music. This is interspersed with two morning and after lunch outdoor playtimes. There are always queues for the slide and swings in the playground. Other resources include a small ball pond and sand pit, frisbees, stuffed animals and a few dolls, some colouring books and crayons – all of which have been donated and brought over from the UK.
Nursery teachers
The nursery has one teacher per class – and we are currently recruiting an additional trainee teacher to cover for illness and maternity leave, which both happen frequently. In common with most Gambian nurseries, the teachers have no formal qualifications prior to coming to Kunta Kinteh. The most experienced, Abdulai, had been teaching (although unqualified) in a nearby primary school for five years, while the newest teacher, Netta, had only just finished high school herself.
During the past two summers, we have paid for all of the teachers to attend a six-week summer school programme in Early Childhood Develoment at the Teacher's Training College in Brikama. We are also fortunate to occasionally have had, as volunteers, experienced teachers from the UK who introduced, for example, basic principles of phonics, ideas for creative play, and discouraged the liberal use of caning which is unfortunately still a regular feature of African education.
Health and welfare
In order to improve the children's health and welfare, and to encourage even the poorest family to send their sons and daughters to nursery, we provide cooked lunches daily for one dalasi each – that is approximately 10p per week. We employ two dinner ladies/cleaners – who also help out as classroom assistants and playground supervisors – for a monthly salary of £10 each. Lunches comprise various popular Gambian stews always served on rice.
All the meals are cooked outdoors on a wood fire and served in large communal bowls. The children wait on the school veranda in groups of eight, eagerly awaiting what is probably their biggest, and sometimes only, meal of the day.
The cost of providing lunches is by far our biggest monthly expenditure. However it is still great value – for approximately £200 per month we can feed over 100 children a nutritious daily meal.
Accident and emergency
At present, the school has basic first-aid equipment for treating cuts and bruises, as well as cough syrup, paracetamol, lotion for scabies and ringworm, worming compounds and so on. Just before Christmas 2007, one more room was ready and equipped for use as a sick room.
So, after one year of operation, we seem to be achieving our main aims:
Happier, healthier and better-nourished children, who are therefore receptive to education.
A good head start, especially in English and general socialisation, before going to primary school.
Affordable nursery provision in an area that would otherwise have none at all.
General benefit for the community—especially in health care and adult literacy.
We plan to employ a nurse-practitioner who will be able to treat more serious illnesses and deal with emergencies such as accidents and complications in childbirth. We will also supply antibiotics and malaria treatment. This will be a tremendous benefit as the nearest healthcare is more than two hours away.
School for adults
Adult literacy in Gambia is still very low (around 50 per cent for men and far less for women), so during the afternoon we open the school for adult literacy classes. Not only is this a bonus for the local community, it also encourages parents and children to read together independently, and means that at least one person in each family compound may actually be able to read their child's school reports.