Cook up some healthy food with your class using recipes from Weston Park Primary School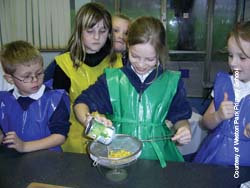 2. Chicken and sweetcorn pasta
You will need:
Pasta shapes (amount depends on number of children)
Water
Previously cooked chicken (sliced chicken in a packet works best)
Sweetcorn
Light mayonnaise
Utensils
Large saucepan
Wooden spoon
Sharp knife
Chopping board
What to do:
Bring a saucepan of water to the boil and place in pasta to the required amount.
Simmer pasta until cooked.
Slice the chicken into small pieces.
Drain off the sweetcorn.
Drain the pasta when cooked and add sweetcorn and chicken. Mix in tablespoon of light mayonnaise. Add more if necessary.
This can be eaten hot, or left to cool and used as a salad. Some of our children used theirs as part of a healthy lunch the next day at school!

1. Perfect pizza
(makes two small pizzas)
You will need:
A pinch of salt
40g (1 and a half oz) butter
3 tablespoons of milk
150g (6 oz) flour
50g (2oz) grated cheese
1 small onion
1 small tin tomatoes
1 desert spoon tomato puree
Utensils
Mixing bowl
Small saucepan
Wooden spoon
Grater
Rolling pin
Knife
Sharp knife
Chopping board
Baking tray
Making the sauce:
Set oven to 22oc / 425oF / Gas mark 7
Chop up onion finely. Place in saucepan with tomatoes, tomato puree salt and mix.
Cook for 15 mins then allow to cool.
Making the pizza bases:
Place flour, salt and butter in mixing bowl. Cut butter into small pieces.
Rub butter into the flour using fingertips until mixture resembles breadcrumbs.
Add cheese and milk. Mix together until forms a dough.
Separate dough into two, forming a ball with each. Roll each ball into circular shape.
Place pizza bases on greased baking tray. Spoon on the sauce and spread.
For the topping:
Pizzas can be decorated to look like faces or imaginative patterns. Olives make really good eyes and sliced peppers look great as mouths. Other suggestions include:
Olives
Cooked sliced sausage
Mushrooms
Different cheeses
Tomatoes
Sweetcorn
Sliced ham
Peppers
Pineapple