Find out about the best maths apps available on a range of tablets and digital devices.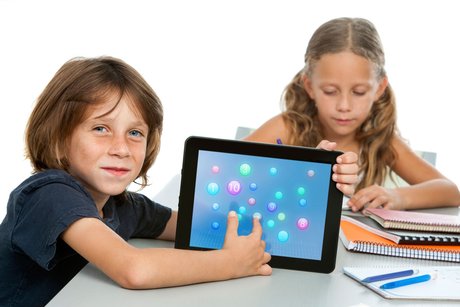 It wasn't that long ago that the world of tablets and iPads was beyond the reach of most classrooms. Yes, we could all see how they could be used to support learning, much in the same way we could see how interactive whiteboards could enhance teaching back in the 1990s. But the price was beyond us and, anyway, were the right apps really available?
That's all changing. Firstly, the price of tablets has come right down in the last 12 months. Secondly, there is now a strong alternative to Apple products with Google's Android tablets and Microsoft's Surface.
So, it's important to understand what makes a good app. Apps are not websites. Websites can be long and rambly centres of information that can be range from the highly personal blogsto corporate functional sites. Apps are bitesized programmes that, at their best, do one thing very well.
Maths is probably the most fitting educational subject to be covered by apps. This article will look at how maths can be enhanced by the use of your iPad, iPod Touch, Android device or Microsoft Surface.
Apps on board
It's easy to forget that there are a whole host of apps already plugged into each and every tablet. Most devices have one or all of the following apps already installed:
Calculator
Clock
Weather app
Also, don't forget that you have the internet at your fingertips through any browser. However, a point worth noting is that Apple products do not support any Flash resources. Whilst many companies are adapting their content to get around this problem, lots of older content is unchanged due to costs. All other hardware companies do support Flash at present.
Calculator
Typically, if a calculator app is held in a portrait style then it will be a standard primary calculator, but when turned to landscape most change to scientific calculators. It is the most basic app yet is the one I find myself reaching for on most days.
Clock
The clock on most devices can do several things:
Tell the time
Act as a stopwatch
Be a timer
Act as an alarm
All of these things are useful across a range of different lessons, whether it is timing a parachute fall in a science lesson, the time taken to run 50 metres in PE or setting the alarm to indicate that 'time's up!' in a test, all can be used on most days.
A final feature on most clocks is the ability to tell the time in a number of countries. The world clock feature on the iPad is probably the most slick as not only does it display the time in up to five different cities at once it also shows where these cities are located on a map and what the weather is like in those locations. It's a fun and very sharp way to learn about time difference. Even the clock faces change colour – white faces mean it's daytime and black mean night.
Weather apps
The weather is always a creative way to introduce difference to children in a way that makes sense. Weather applications, even the simplest pre-installed type, not only can tell children the temperature in both imperial and metric forms but also give predict the weather over several days or even hour by hour for the next 24 hours.
Weather apps are not constrained to just your current location and can be adapted to show the weather across several locations. Comparing and contrasting temperatures is a great way to introduce negative numbers in a way that is real and can provide a genuine opportunity to raise the profile of any community in your class.
Online apps
They say there is no such thing as a free meal and the same is true of apps. If it is free then it generally means one of two things: either there is a full version that will cost or that the company want you to make 'in app' purchases. You can usually turn off in-app purchase options to prevent children running up a bill.
Here are my top five free maths apps:
Maths Wiz is a simple starter resource. It's full of quick 2-5 minute mental tests. Nothing too complicated and not that sophisticated.
King of Maths takes the Maths Wiz step a bit further. The free download only has four options but these are ideal for primary maths. The aim of the game is to promote your self from a maths farmer to a maths king by completing various maths challenges. It quickly becomes quite hard but is a fun way to start any maths lesson.
DoodleMaths – this is fun if not a bit frustrating (it's desperate to sell the full version). But if you can get over that then it's an engaging maths app.

TED

Ed is, strictly speaking, not an app but a website, but it is available for all tablets and is too good to miss. The motto of

TED

Ed is 'lessons worth sharing' and there is a growing range of lessons fit for the multi-media age alongside maths. A great maths lesson is called 'what happens when you guess'.
Khan Academy includes Salman Khan's rich resource of 'all that is maths'. Nearly one million children log in every day to download short 20 minute video lessons that are now neatly available within this app. The only downside is that for a full and recorded user name you need a Google or Facebook account.
The best paid maths apps:
Math Bingo – like many of the maths apps this one is American but translates easily into UK classes. It is a fun way to start maths lessons and because the bingo element can be used over and over again it is possibly worth the 69p it costs (no more printing out bingo sheets!)
Mathletics is one of the top online homework supporters in the UK and across the world. Their app version is not as rich as the website and has been designed for Apple users as the website can still be accessed by Android and Surface users. The app itself is free but can only be used with a site licence.
Talk Maths is a great app to use with two children. It demands that children discuss their maths whilst playing one of four games. There are a number of different year group versions and all are very engaging. My only concern is that it is a bit on the pricey side.
Accelerated Maths Live – although Renaisance Learning is an American company, the 'live' app version has been developed in the UK. As with Mathletics, the app can only be used with a current site licence.
Maths Doodle is not only a great resource to have in the classroom but a joy to look at. Creator Daren Carsten understands that maths can be beautiful and creative without losing any of its functionality. If only there were more apps like this…