Reading on a tablet has taken off in the UK in a very big way. Whether it is reading the latest novel, practising phonics or learning a new language, there is an app that fits most aspects of school life. Many are free and those that require purchasing are generally priced below a pound.
This article considers the main reading apps, ways to encourage children to read, flash card phonics and using tablets for reading with children who have autism.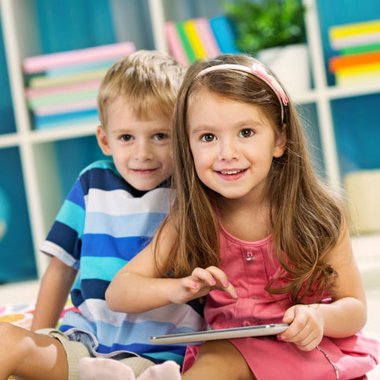 Amazon's Kindle
Amazon's Kindle, in all its different guises, is one of the most popular reading devices around. You just have to step on to any train and you'll see one. It's also a device that refuses to be pushed into the shade by tablets. There's a good reason for that: the Kindle is affordable, it's easy to use and the content that Amazon offers is often competitively priced against other online retailers, and almost always beats the print pricing.
However, you don't have to buy the hardware to benefit from Amazon's pricing on Kindle books as you can access them through any smartphone or tablet including any of Apple's products.
Kindle for Android or Apple operating systems is different for tablets, so rather than just getting an enlarged version of the app on a bigger screen, it makes better use of space on a larger display. You get a four-column grid rather than two, and in reading there's a more substantial top navigation bar and it doesn't use overlays like the smartphone app.
There is a range of reading view options on offer too, so you can change the margins, spacing, font size and the screen colour, selecting from white, black and sepia. This enables you to get Kindle for Android to whatever your situation: white text on a black background is better for reading in the dark, for example. This can support readers with sight or colour issues. The downside is that you have to have an Amazon account and then ask your IT technician to kindly lock down any in-app purchases.
iBook
iBook is a free Apple app that allows you to download and read books from the iBook store, which features everything from contemporary bestsellers to classics. Although this is a free app, some of the books available for download require a fee. To use the app, first download a book from the iBook store. Then tap the book to open it, and flip through pages with a tap or swipe. You also can bookmark pages, add notes to passages, change font sizes and select from six type settings. Before you download a book, you can read a sample selection.
The latest version of the iBook is particularly great for children because it offers a read-aloud feature in which a narrator reads the book to you. For some books, the screen highlights words as you read along.
ABC

Pocket Phonics

ABC PocketPhonics teaches children more than 170 frequently-used words. This app plays a recording of a letter and then asks the child to find the letter out of a group of about eight letters. When the child selects the correct letter, he or she receives a thumbs up and moves on. Another letter is pronounced, and your child eventually builds a word. Additionally, ABC PocketPhonics demonstrates how to write each letter by allowing children to trace the letter with their fingers.

This app is best suited for Early Years beginner readers. It includes a Parentzone section that links parents with more tools to teach children how to read. It is aimed at our American cousins (as many apps are) but is a simple to use resource.



Reading for Kids: 100 ways to encourage your child to read
This free iPad app provides 100 resources for parents who want to encourage their children to become life-long readers. It describes engaging ways to make reading fun and exciting for young learners.
Ideas provided by the app range from planning a trip to the library to get your child's first library card to developing fun reading blogs and websites about reading. The app also suggests book- and reading-related craft projects such as making bookmarks. Reading for Kids even gives advice about where to store books so that your children have easy access to them. One of the great things about this app is that its resources can be used with children of all ages.
Word Magic
Word Magic is a spelling app that shows children a picture of an object and gives them some of the letters of the word for it. They have to choose the letters that are missing by touching the screen. Based on the child's level, the missing letters can come from the beginning, middle or end of the word. For example, you might set the app to display one missing letter at the beginning of a word for a 3 year old, while you could challenge a 6 year old to find two missing letters in the middle of a longer word. After five correct answers, different colored stars appear as a reward and a voice recording congratulates the child.
Priced at 69p, Word Magic gives you a lot of bang for your buck by both helping to build spelling skills and developing vocabulary. There is a free version but it is quite limited – worth spending the pennies!
Grace
Although tablets are great learning devices for all children, they have a special potential to assist children with learning differences. Because the iPad does not necessarily involve interaction with a teacher or parent, it provides a less stressful learning environment for children with autism, as well as those who are nonverbal or struggle with other special learning needs.
Grace, an app designed by a mother of two autistic children, helps with sentence building by providing relevant images to form sentences. Children select eight cards to build a sentence. The app comes with a set of basic pictures, but you can also customize the photos and images that are used to build sentences. As children practice building sentences with this app, they can attempt to vocalize the sentences with the knowledge that they have the pictures for backup. Even though it is a pricier app at £17.99, the cost is well worth it: this app has the potential to enhance the learning experience of a child who might otherwise struggle with reading skills.
Learn to Read!
Most of us remember studying new vocabulary words by cranking out hundreds of flashcards over the span of our school years. With the Learn to Read! app, the days of time-consuming and laborious flashcard making are over. This app, costing 69p, is a technologically advanced spin on traditional flashcards. Frequently used words on flashcards appear on the screen while a voice recording pronounces the word. Learn to Read! is equipped with the Dolch Word List, a group of sight words commonly used in the English language. They include parts of speech such as pronouns, adverbs, prepositions, adjectives, conjunctions and verbs that are difficult to learn through the use of pictures and have to be acquired though memorization and recognition.