Discover how simple it can be to set up your own website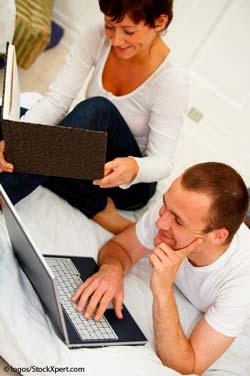 Setting up your own website is easy and will give you an instant online presence
Why would you want your own website? Well perhaps the real question is, 'Why not?' If Web 1.0 was about finding information on the internet, perhaps Web 2.0 is about adding information to the internet. You might want a website for personal reasons – a graduation, a wedding or a christening. Are you in a band or choir – or perhaps a group, club or society? If so, then why not use the web to promote this? Maybe you also run a small part-time business and need a shop window? Whatever the situation, the internet provides lots of ways in which you can build an online presence.
What the blog?
One of the easiest ways to do this is through blogging. A blog allows you to have a voice on the web and is designed to be easy to edit and easy for others to comment. It's like an online diary that others can see and write in. Most of the time it is free to set up a blog. If this is the route you'd like to take, then why not visit www.blogs4schools.com? The site explains what a blog is, how a blog could be used, and gives tips on how to set one up.
Virtual shop front
Unlike a blog, a website is more of a shop front. Most of the time, others cannot comment on it – and there isn't an expectation that you will update it or post comments on it regularly. It's a slightly more static web presence that doesn't connote that you will add to it or change it frequently. One very impressive way of creating a website (with blogging abilty) is through www.weebly.com Weebly is a free web-based site creator that lets you build very impressive pages in seconds by drag-and-dropping. Weebly has a good selection of template designs and allows you to add many different elements such as images, videos and audio from other websites. The other great thing that distinguishes this service from other free website creators is that your final website is free of adverts. Weebly also allows you to create more than one site – so with one account you could have a personal website, one for your club or society, or one to focus on a personal interest or hobby. Once built, you can email friends to promote it or publicise it via your other email or social networking accounts.
Whatever the situation, the internet provides lots of ways in which you can build an online presence
Ready to get started?
The first step is to sign up and give your site a new name. You can always change this later. Weebly will then load a basic template design and add the site name. The next step is to drag and drop the elements you want for the editor bar. Once you've done this, you can start typing in your content and upload pictures. If you want to change the design of your webpage, simply choose one of the many ready-made designs. Once you've completed your home page, it's just as easy to add additional pages. Finally, click Publish and choose the web address you would like for your site.
That's about it. If you want to see how easy it is then visit www.buildit.weebly.com This is a simple website that took just a few minutes to create as part of the research for this article. Why not give it a go and start promoting yourself, your interests or your club – the world awaits!