If you can keep your head when all about you are losing theirs, you'll be able to keep the peace at playtime and deal with any disaster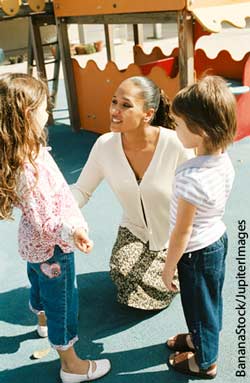 It is uncommon to find schools where ways have been found to circumvent the need for teachers to do playground duty. Moreover schools – that means you – have a duty of care that cannot be set aside just because it is playtime and time for teachers to have a coffee and comfort break. Playground duty is truly a duty, so cast aside grumbles and moans, and approach it with a positive attitude.
There are several factors affecting the ease with which you are able to do your duty – the size of the playground, the number of children on it, the quality of the ground, the presence of hazards and blind spots, lines of sight, play and other amenities for children, the quality of boundary fencing and security provisions, and the number of adults on duty. These are all matters over which the school can, in theory at least, exercise some influence, so don't be frightened of raising them in a staff meeting.
Pay frequent visits to nasty corners where trouble may lurk
Playground duty is generally easier when there are two adults present, but for the most part I shall assume that there is only one, which does make covering the beginning and ends of playtime tricky. You need to be there at the start to receive the first children and at the end to shepherd in the last straggler, so arrangements should be made to supervise your class in your absence. You can make a quid pro quo pact with a colleague or use the services of a classroom assistant, it doesn't really matter which, but it is a problem that must be resolved. One head I worked for insisted that teachers send a two-minute warning to the staffroom when the end of playtime approached; I once sent a child every 30 seconds – but I was frivolous then.
Useful tactics
Once on the playground, you must decide where to stand. The middle is almost certainly the worst place because a large group of children will always be behind you. Try to walk around the playground boundary or position yourself at a point on the boundary where you have clear lines of sight. There may be nasty corners where trouble can lurk and if these cannot be put out of bounds, pay frequent visits. Walking smartly from one place to another (usually where you see potential for trouble) is a good tactic; children soon learn that you are watching them and it helps them to feel secure, or insecure if they are up to mischief.
Communication is very important, so be clear about what the established procedures are. How do you get the attention of all the children? There must be an emergency strategy in case of fire or other threat (heaven forbid). How do you signal the end of playtime and control re-entry into the school? How do you communicate with the school? Some schools use radio links (expensive but the best system), others use warning cards or some comparable method. A red card sent to the staffroom means 'send help immediately'.
Dealing with incidents
The most common minor emergency is the 'grazed knee' but as you have to supervise the rest of the children, you have to call for the assistance of the designated first-aider in these cases. Cuddles and words of comfort are more easily dispensed, although some argue that this is fraught with danger for the teacher. Personally, I believe that the needs of the child should be paramount and that these should guide your actions.
It is best to record first aid, accidents and incidents in a Duty Record Book. Experience will hone your judgement in these matters but it is not always easy to distinguish between an attention-seeking grumble and a genuine complaint. I once dealt with a howling young child who claimed she had been bullied by an older child, In fact, a boy had accidentally lightly bumped into her, but I would never have guessed it from her reaction. Treat every report seriously but don't believe everything you are told. Having a 'time out' wall is a good strategy for minor misdemeanours but most incidents can be dealt with by a few well-chosen words. The ethos of the school helps here, especially if children are encouraged to care about each other.
Playgrounds used to be all balls and conkers; health and safety has turned many into barren wastes
Even holding a hot drink has the potential for disaster, so drink afterwards. Strangers talking to children over the boundary fence are another potential hazard and you should take the initiative to politely discourage it. Parents and friends can also be a nuisance and you will need to use your tact and judgement here; if it becomes a real problem then it is one for the headteacher.
Playgrounds used to be all balls and conkers, but health and safety concerns have turned many into barren wastes. I hope that yours is one that contains lots of things for children to do, even a quiet place to sit, because such playgrounds are happier and safer places. Don't get too drawn into the games the children are playing as you may be distracted from your duty, but try to be active; talk to the children and listen to what they have to say. Playground duty can have its satisfying moments.