Scholastic has launched a new literacy campaign called Read Every Day.
In recent years the UK has fallen from 7th to 26th place in the world ranks of literacy ability. However, a new research review commissioned by Scholastic and carried out by Durham University has found a link between book ownership within the home and literacy levels in children.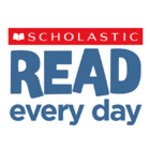 Committing to reading every day
In simple terms, the research indicates that 'kids who read, succeed.' With that in mind, Scholastic has launched a new literacy campaign called Read Every Day.
In the effort to encourage children and parents to commit to reading every day, celebrities including Sir Richard Branson, Ben Elton, One Direction, Little Mix and Edith Bowman have supplied their 'book print' – the five key books that have influenced their life.
Catherine Bell, Managing Director of Scholastic UK, says: "Books matter. The research so far clearly indicates that children who have books in the home do better in school. Read Every Day is about inspiring children and making reading exciting. We want to help support the fantastic work that teachers do so we're asking everyone to get involved and make reading the main event every day."
Peter Tymms, Director in the School for Education at Durham University adds, "The evidence is clear that children from homes where there are established reading habits and books available are likely to have higher levels of literacy. Our initial findings suggest that the effect is still found at the age of 16 with these children having better success in English language and literature GCSEs."
Get involved
The review doesn't end there, though. In order to provide an even more accurate and up to date snap shot of UK reading behavior, parents and children across the UK are invited to take part via a Durham University questionnaire exploring their reading habits in the home and book ownership.