Having eczema can affect a child's daily life. This professional guidance will help you to be supportive of any children in your class who may have the condition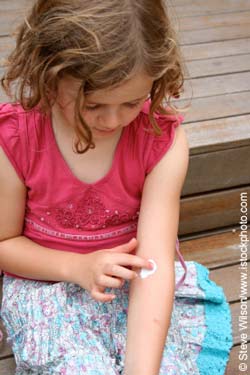 Eczema
What you need to know
Some children have a very itchy, dry, scaly, red rash on their face, their neck, their hands and in the creases of their limbs. For some children, this is widespread and can be debilitating. For others, there are just sore or irritating patches. It tends to run in families who suffer from hay fever and asthma.
Some children have the condition so severely that they are in constant discomfort. It can come and go in severity with good spells and bad spells, sometimes relating to the time of year.
The most common form (atopic eczema) typically develops in the first few months, and most children grow out of it by the time they are around three years old. By the time they start school, most children's eczema will have improved.
Eczema can be triggered by certain foods, such as dairy products, eggs or wheat. An attack can also be set off by stress. It may be caused by skin irritants such as wool, washing detergents or pet fur.
How to help
Find out about any special diet. You may need to ask parents to send in a special snack for their child or some soya milk instead of your usual supply.
Ask parents if there is anything that their child cannot handle. For example, some children find working with clay difficult as it can dry the skin. Others need to wash hands after handling certain craft materials.
Washing hands a lot can dry them out, so help the child to dry their hands thoroughly and ask parents about a moisturising cream if this will help.
Do not let your concern show itself as anxiety. If a child is irritated and upset by their condition, the need you to stay calm and to distract them from it as far as possible.
Children who have severe eczema can be exhausted in school because of disturbed nights. Sometimes, you may have to provide somewhere for a tired child to rest.
Use distraction to discourage scratching and rubbing.
Be flexible about any school uniform so that the child can be comfortable and any affected limbs are covered. A loose cotton tracksuit is usually best for PE.
Pay attention to room temperature – heat or cold can be uncomfortable for a child with severe eczema. If a child is not comfortable during PE, make sure that there is a window or fan that any child can use to cool down.