Allison Lee clarifies how Ofsted's grading system works; explains what to do if a parent doesn't pay on time; and provides some activities to enjoy outdoors
Expert advice
Ofsted's grading system
Ofsted grades childminders by using a four-tier scale based on the following points:
Helping the children to be healthy.
Protecting the children from harm or neglect and helping them to stay safe.
Helping the children to enjoy and achieve.
Encouraging the children to make a positive contribution to their provision and the wider community.
Based on these points, a childminder's setting may be graded as:
Outstanding – this grade is given to exceptional settings that have excellent outcomes for children.
Good – this grade is given to strong settings that are effective in promoting good outcomes for children.
Satisfactory – this grade is given to settings that have acceptable outcomes for children with scope for improvement.
Inadequate – this grade is given to settings that are considered weak and have unacceptable outcomes for children.
Q&A
What should I do if a parent doesn't pay me?
Always address the problem of late payment immediately. Never allow it to go on for weeks. No one likes talking about money and it can be very difficult to raise the issue of late payment with parents, however you should always bear in mind that the longer a parent goes without paying, the larger the bill will be and the less likely you are to get paid at all.
Approach the parent sensitively and remind them that their payment is late and should be paid in full immediately. Refer them to the contract and inform them of any fees incurred for late payment. Sensitively enquire whether they are experiencing any problems – perhaps they have been paid late themselves or their childcare vouchers may not have arrived – and try to work out an amicable solution together.
Although you should never be "fobbed off" with excuses, always allow the parent to explain and give them the chance to rectify the problem before going in with all guns blazing and threatening to terminate the contract. Remember busy parents may have simply forgotten the fee is due.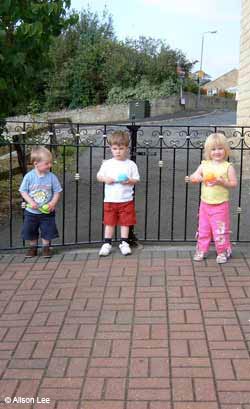 activities: outdoor play
Egg and spoon race
Balance the egg on the spoon
Physical Development
What you need
Spoons; plastic toy eggs.
What to do
Set aside a suitable course for the egg and spoon race. Encourage the children to run a short distance while balancing the egg on the spoon. If they drop their egg, they should return to the start and begin again. The first child to reach the finish line with their egg still balancing on their spoon is the winner. Do not use finishing tape – this is unnecessary and poses a danger of strangulation.
Bug expedition
Go on a minibeast hunt
Knowledge and Understanding of the World
What you need
Small plastic containers; magnifying glasses.
What to do
Invite the children to go into the garden to look for minibeasts. Look for ladybirds and caterpillars, which will be easy to spot on various plants and flowers. Encourage the children to gently place the minibeasts in their containers so that they can examine them closely using the magnifying glasses. Let the children explore different parts of the garden to see what other minibeasts they can find. Earwigs may be discovered under rocks and stones, and worms may be apparent in damp soil.