We all need to know where we are in relation to other things. There is so much out there in the world for children to explore and understand. We need to teach them how to use all of their senses to help them use their space safely and imaginatively. Using the superhero theme, we can explore relevant ways in which to develop these skills.
Tips, ideas and activities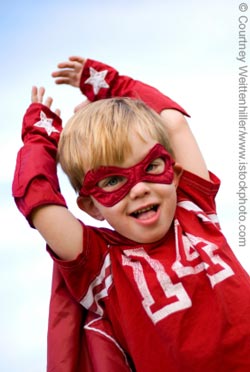 Super heroes have to move very quickly in a world which has so many jobs for them to do. Teach the children how to transport and store equipment quickly and safely. When they are able to do this on their own, encourage them at tidy-up time to work with another child to transport boxes of equipment, large outdoor construction materials such as bread crates, planks of wood, milk crates and so on.
Ask the superheroes to fend off a large group of baddies by grabbing a stick or stone from the ground and imbuing it with their own special powers.
Sticks of all shapes and sizes are an essential outdoor resource. We can teach children how to handle them safely, no matter the size of the sticks. Children need to know what is happening at both ends of the stick to ensure it isn't touching anyone. If the children understand that they will have to put the stick down if it does touch anyone, they very quickly learn the skills they need to be able to keep hold of their chosen stick. These are the essential lessons of spatial awareness. Prompt children to ask themselves questions such as: Where am I in relation to the stick? Where is the stick in relation to everyone and everything else?
As superheroes, children love throwing stones, and we can teach them to do this safely. This will help them to judge distances between themselves and other objects in space. Let them take turns to throw stones into a bucket of water or a puddle, away from people, buildings, windows, cars and so on.
Explain to parents and carers why you are teaching children to do these things.
Thinking points
You might have a child in your group who is visually impaired or with another specific disability. You need to consider how that child's needs can be met. Who can you consult? Will the

SENCO

in your setting be able to advise you?
Encourage the children to concentrate as they develop their skills and allow others to concentrate too.
Very young children find it very difficult to wait for what they want, whereas an older child is already developing this skill of delayed gratification. Sometimes we keep our youngest children waiting too long before they can go and choose their special stick or magic stone.
Try to create different levels in your outdoor space. A bird's-eye view from the top of a tree stump will look very different from a view at ground level.
This article was taken from Rose Joyce's fantastic book You Can Create an Outdoor Classroom. For a chance to win your own copy click here