Very young children often find it difficult to accept boundaries; at the same time, older children might like to test these boundaries. Whatever the age group, the boundary rules need to be taught consistently, and recalled frequently. In considering boundaries, practitioners' first criterion has to be the overall safety of children and adults within the whole group. We can go on to consider the wider implications of boundaries and sanctions in terms of learning opportunities for all our children and adults.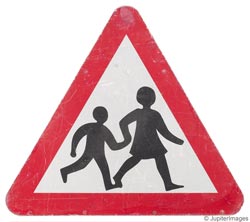 Tips, ideas and activities
Think about developing a sense of belonging within your setting as a way into setting realistic boundaries that can be monitored by children and adults alike.
When outside, encourage adults to demonstrate excellent interpersonal skills while dealing with children and colleagues – respecting one another's space, ideas and practices. They can then expect the children to treat them and each other with courtesy and respect, both sides accepting boundaries that will benefit the whole group.
Do not expect and assimilation like this to happen overnight. Young children often have a range of settings and boundaries to accommodate in their lives. They may be looked after by a childminder as well as attending nursery or school. They may spend time with another parent or grandparent a couple of times a week. Each of these situations may well have a different set of boundaries or, more confusingly for the child perhaps, the same boundaries but with very different sanctions. Learn as much as you can about each child's life outside your setting.
Avoid confrontation. No one wins in this sort of situation, and it is not a helpful context in which to teach a child how to accept boundaries.
Keep boundary rules short and simple. For example: If you poke someone with a stick outside, then you have to go inside. Give the child, say, one warning before each sanction is applied.
You must carry out your sanctions. There can be no compromise on this. Children need to learn to take responsibility for the consequences of their actions. All adults working in a team need to have a consistent and firm approach to this. If the system breaks down, urgent discussion is needed and with it a clear re-stating of the rationale for the setting the boundaries and sanctions in the first place.
Thinking points
Do the children understand the boundary rules for the outside area and what will always happen if they do not accept them?
Do the children know where they are allowed to play? Do they understand that it is not safe for them to wander off on their own outside?
Think about how you could introduce boundaries to a new group of children, whatever their age? How can you be sure that everyone has understood? Do you have a simple system in place where you can monitor how individual children respond to these new ideas?
The boundaries for your setting may have to be modified for a child with specific learning difficulties, who might not be able to follow the same rules as the rest of the group. How are you going to explain this to the other children?
Can you find a way of involving the children in setting boundaries and sanctions?