Ten top tips to help you prepare for safe outdoor play
10 Top Tips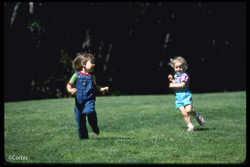 1. Do a thorough written risk assessment of the area.
2. Check each day for broken glass, brambles and so on.
3. Regularly check resources and discard damaged and broken equipment.
4. Agree boundaries and sanctions with the children regarding appropriate behaviour. Make sure these are simple, clear and always carried out in the interests of everyone's safety.
5. Teach the children the skills they will need to be able to explore the environment independently.
6. Allow the children sufficient time and space to explore and develop skills at their own rate. Trust them to do this. Given the time and space, they will rarely tackle challenges beyond their levels of competence.
7. Practitioners need to have a sound knowledge of child development if their expectations of them are to be realistic.
8. Practitioners need to have a sound knowledge of the importance of play so that they can interact with the children in a truly meaningful way.
9. Don't be afraid to take a few (responsible) risks yourself. Let the children lead you.
10. Remember that accidents can happen even in the best-planned environments. Ensure that you have a policy for procedures to deal with this.