Discover the wonders (and dangers!) of an ancient desert tomb
This fantastic resource is best viewed full screen on an interactive whiteboard. Pointing at different areas of the screen allows children to move the keyhole and reveal sections of the picture. By examining what they can see through the keyhole, children will build up a picture of the room and its owner, via the different objects and details.
It's a wrap!
There's life in this old boy yet… he's escaping from his sarcophagus! Mind you, after being cooped up in the dark for so long it is probably high time he stretched his legs.
Purrfect companions
Cats were popular domestic animals in Ancient Egypt and also considered sacred. This pharaoh was clearly a pet lover as he has chosen to take his feline friend to the next world by having it mummified.
Slippery customer
Where's a snake charmer when you need one? This venomous fellow – an Egyptian cobra – is the most feared of all venomous snakes. It could cause a few problems if you don't watch where you tread!
Body bits
You may not want to get too close to these canopic jars… they contain the liver, lungs, stomach and intestines of the dead pharaoh! Each lid is shaped to represent one of the four sons of the god Horus.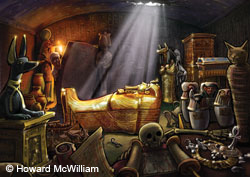 A grave mistake
This tomb robber looks to have met an unfortunate end. What might have spelled his doom? Perhaps that nearby scorpion could be a likely suspect, unless there is something more sinister afoot… like a mummy's curse!
All that glitters…
This sarcophagus tells us a lot about the status of the person buried inside. They must have been someone very important to have a funeral case fashioned from gold and jewels.
Unlawful entry
What could this character be up to? Maybe he's a tourist who took a wrong turn, a world famous explorer or simply a greedy tomb robber who is after gold and jewels.
Boys and toys
These models show that the pharaoh was fond of hunting and travel. Egyptians often placed models in their tombs – believing that the objects they represent would go with them into the next life.
Man's best friend
The jackal is a symbol of death, but also of protection in the next world. Would this sinister-looking statue come alive if someone dared to steal the pharaoh's treasure?
Don't forget…
We have five other scenes for your class to explore. Check them out by clicking on the links below: